PM formally announces Visit Lumbini Year 2012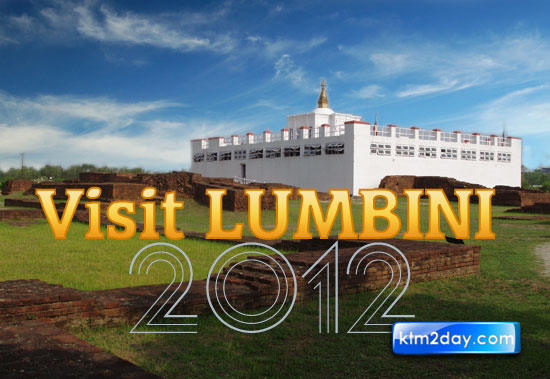 Prime Minister Baburam Bhattarai formally announced the much-talked-about Visit Lumbini Year 2012 (VLY-2012) from the birthplace of Gautam Buddha on Thursday, inviting the world to work towards creating a peaceful society through Buddha's peace message.
"I formally declare the year 2012 as Visit Lumbini Year so as to make the birthplace of Buddha a centre of global attraction," said the prime minister at a programme here. Lumbini is one of the country's 10 sites inscribed on UNESCO's World Heritage Site List.
Bhattarai said Buddha fought against starvation, terrorism, hatred, wars and intolerance, and insisted that country is heading towards ensuring perennial peace, ending the impact of past conflicts.
Buddha's discourses have high influence on both domestic and international communities and that Nepal should take its advantage by linking religion with the country's development.
He committed that a number of plans have been devised to make Lumbini, the centre of global attraction. In the first phase, the government will design a master plan for the development of Lumbini and then a circuit will be developed to connect all the holy places related to Buddha.
The Cabinet on October 17 had declared 2012 as Visit Lumbini Year (VLY) for the promotion and development of the Lumbini area. It had also formed a six-member national committee led by UCPN (Maoist) Chairman Pushpa Kamal Dahal for the development of the Greater Lumbini Area.
The committee includes Forest Minister Wakil Musalman, Nepali Congress Lawmaker Minendra Rijal and UML Lawmaker Mangal Siddhi Manandhar. The committee has also been mandated for preparing a master plan for the development of Lumbini.
A team led by Dahal visited New York, USA, recently to meet UN Secretary General Ban Ki Moon. The Nepali team urged Ban to coordinate international efforts to develop the Buddha's birth place.
Maoist Chairman Dahal is also one of the joint chairmen of Hong Kong-based Non Governmental Organisation—Asia Pacific Exchange and Cooperation Foundation (APEC)—which was said to have pledged to spend $ 3 billion for the development of Lumbini.
The government plans to nominate Nepali singer and nun Aani Chhoying Dolma, Chinese actor Jackie Chan, Indian superstar Shahrukh Khan and Indian actress Rekha as Peace Ambassadors for the VLY 2012.
According to the Bhairahawa immigration office, 98,431 visitors (excluding Indian) entered Nepal to visit Lumbini in the first 10 months of 2011. According to the government statistics, 99,508 tourists (excluding Indians) visited Lumbini in 2010. (Source:ekantipur)