Odysse Electric Bikes and Scooters Price in Nepal : All Models with Specs
☰ Odysse Electric Bikes and Scooters Price in Nepal
The popularity of electric vehicles is ever-growing with the hike in fuel prices in recent times. The market is flocked by launch of new vehicles on a daily basis whether it be two-wheelers or four-wheelers.
On this backdrop, new vehicles from emerging Indian electric two wheeler brand Odysse have arrived in the Nepali market. Odysse's electric two-wheelers has been launched in Nepal by E-Go Automotives.
E-Go Automotives has launched one model each for electric motorcycle and a scooter in Kathmandu. The electric two wheelers brought by the company are Evoquis e-bike and a e-scooter named Racer. The company has stated that it will soon bring commuter e-bikes to the domestic market.
The price of the motorcycle Evoquis, which the brand is going to start selling at a function today, will be around Rs 450,000, while the price of the Racer scooter will be available in various variants ranging from Rs 235,000 to Rs 340,000.
E-Go Automotives is going to start selling electric motorcycles and scooters from today by setting up its showroom in Naxal, Kathmandu.
The company has stated that Nepal Electricity Authority MD Kulman Ghising and famous artist Harivansha Acharya will be present to make the brand public.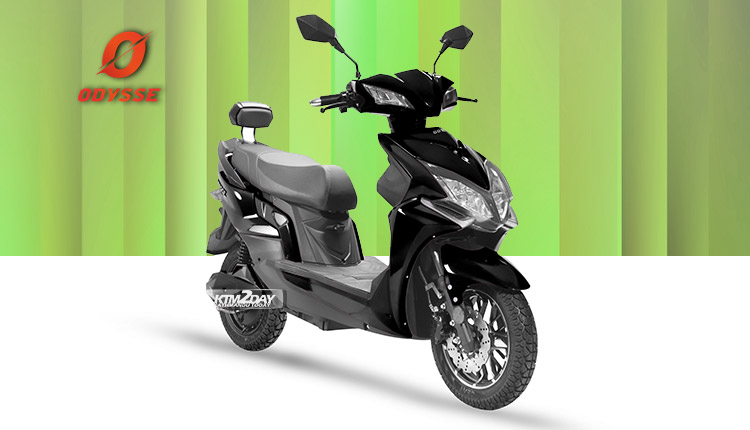 ☰ Odysee Racer
With 27 Nm of peak torque, the Odysse Racer has a 1.2 kW electric motor. At 45 kmph, the scooter can travel 70 kilometers on a single battery.
According to the manufacturer, the e-scooters use rechargeable batteries that take between 3.5 and 4 hours to fully charge.
As a result of its streamlined design, the Odysse Racer has a number of notable features: a keyless ignition, an anti-acceleration lock, convenient USB charging, a disc brake and three drive modes.
Odysee Racer Scooter Specification
Motor Power: 1200 Watts
Peak Power: 1500 Watts
Voltage: 72 Volts
Torque: 27 Nm
Starting system: Keyless and Electric
Max speed: 45+ Km/ hr
Transmission: Front Drive & Reverse
Dimension and weight

Length: 1890 mm
Width: 710 mm
Height: 1130 mm

Wheelbase: 1320 mm
Ground clearance: 175 mm
Seat height: 810 mm
Gross weight: 107 Kg
Wheel rim : Alloy
Loading capacity: 150 Kg

Suspension

Front: Telescopic
Rear: Both side Spring loaded hydraulic

Tyre size

Front tyre: 90/90 – 12 (tubeless)
Rear tyre: 90/90 – 12 (tubeless)

Brakes

Front Brake: Disc brake
Rear Brake: Drum brake

Battery

Battery type: Maintenance free battery 12V
Battery capacity: 28 AH

Charging time: 5 hours
Colors : Carbon Black, Coffee Brown, Glacier White, Spartan Matte Red, Blue
☰ Odysee Racer Scooter Price in Nepal Rs 235,000 to Rs 340,000
☰ Odysse Evoquis
Two-wheeler Odysse Evoqis is a full-faired electric motorcycle. The motor of Odysse Evoqis produces 3000 W of power. Both the front and rear disc brakes are provided in Odysse Evoqis.
In 4.2 seconds, the motorcycle is supposedly capable of going from 0 to 50 kmph, with a top speed of 80 kmph. With the help of the assisted bike mode, you can choose between two different speeds. The maximum weight capacity is 170 kg. For each charge, the firm claims a driving range of over 100 kilometers. It takes about five hours to fully recharge the battery.
The all-aluminum frame of the electric motorcycle is supported by telescopic front forks and a monoshock at the back. The Evoqis' braking system features two front rotors and a single rear disc. A set of tubeless tyres covers the 17-inch alloy wheels.
The bike's athletic look is accentuated by the full-fairing construction and clip-on type handlebars. With a twin-pod headlight, fairing-integrated turn indicators, and split-style seating, it's a well-rounded motorbike. The Evoqis comes with a music system, anti-theft lock, and keyless access as well as full-LED lighting. In order to accommodate shorter riders, the seat's height has been listed at 750 millimeters.
In addition to five colors, the electric motorcycle comes in a single model and one variant. The electric bike is available in Cobalt Blue, Fire Red, Lime Green, Magna White and Black colors.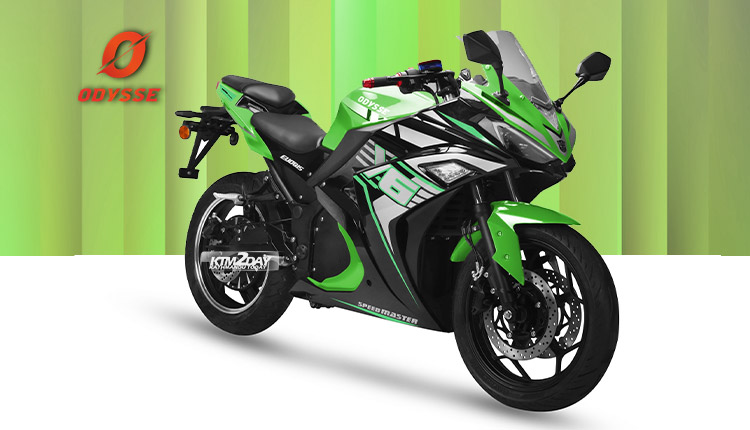 Odysse Evoquis Specification
Motor Power: 3000 Watts
Peak Power: 4300 Watts
Voltage: 72 Volts
Torque: 64 NM
Starting system: Keyless
Max speed: 80 Km/ hr
Transmission: City Drive, Parking, Sports Drive & Reverse
Dimension and weight

Length: 2060 mm
Width: 740 mm
Height: 1150 mm

Wheelbase: 1410 mm
Ground clearance: 170 mm
Seat height: 750 mm
Gross weight: 150 Kg
Wheel rim: Alloy
Loading capacity: 170 Kg
Suspension

Front: Telescopic
Rear: Spring Suspension

Tyre size

Front tyre: 110/70 – 17 (tubeless)
Rear tyre: 140/70 – 17 (tubeless)

Brakes

Front Brake: Disc brake
Rear Brake: Disc brake

Battery

Battery type: Li-ion
Battery capacity: 4.32 KW

Charging time: 6 Hour
Colors : Cobalt Blue, Fire Red, Lime Green, Magna White, Black
☰ Odysee Evoquis e-bike Price in Nepal Rs 450,000