KATHMANDU VALLEY METRO INCEPTION REPORT : 66-km network, 5 lines, 31 stations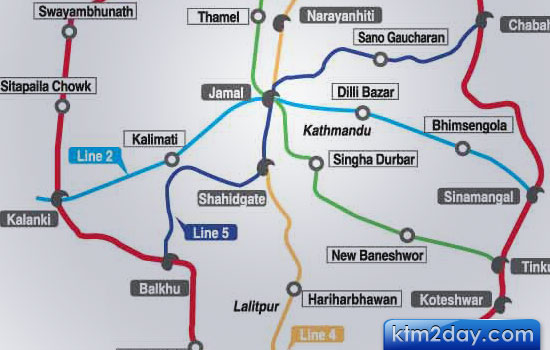 The preliminary inception report on the much-awaited Metro Railway in Kathmandu that was submitted to the Department of Railways (DoR) by consulting companies this week has outlined five lines for the network — four inside the Ring Road and one that will travel along the Ring Road.
The proposed 66.1-km network comprises 31 stations in total — including transfer and ordinary stations. The main terminal of the metro will be located at Ratnapark, says the report, which is yet to be approved by DoR.
According to the report, the 27.35-km Line 1–which follows the Ring Road–will connect different locations between Kalanki, Satdobato, Chabhil and back to Kalanki.
The Line comprises 18 stations including transfer points at Kalanki, Balkhu, Satdobato, Koteshore, Tinkune, Sinamangal, Chabhil, Narayan Gopal Chowk and Gongabu, from where passengers can change trains. Line 1 will have pick-up and drop stations at Ekantakuna, Dhobighat, Sitapaila Chowk, Swoyabhu, Balaju, Machhapokhari, Tilangatar, Dhumbarahi and Gwarko.
Those who want to go from Kalanki to Sinamangal can take trains on Line 2. This Line will have six stations in places ranging from Kalanki and Sanogaucharan to Sinamangal. The Line will pass through the main terminal.
The preliminary report shows that Line 3 will link Koteshwore and Gongabu. It will have eight stations in places like New Baneshwore, Singha Durbar and Thamel and will pass through the main terminal.
Similarly, Line 4, which is 11.5-km long, will connect Satdobato and Narayan Gopal Chwok, while Line 5 — the shortest at 8.4 kilometers — will link Balkhu and Chabhil.
According to Rajeshwar Man Singh, superintendent engineer at DoR, the Metro Railway will travel above ground in some places, underground in some areas and on the surface in selected places.
"But how it travels in each specific area will be decided after the complete feasibility report is prepared," Singh said.
DoR has given the consulting companies until November to prepare the complete feasibility report.
The feasibility report of the project — which will be based on the preliminary inception report — will be prepared by Korea Transport Institution, Chungsuk Engineering Company, Kunwa Cunsulting and Engineering Company, Korea Rail Network Authority and two local companies– BDAnepal Private Limited and ERMC Private Limited. These companies were also involved in preparation of the preliminary inception report.
"We have paid around Rs 60.5 million (to the companies) to prepare the preliminary report and conduct the feasibility study," Singh said.(Source:Republica)