International trade fair starts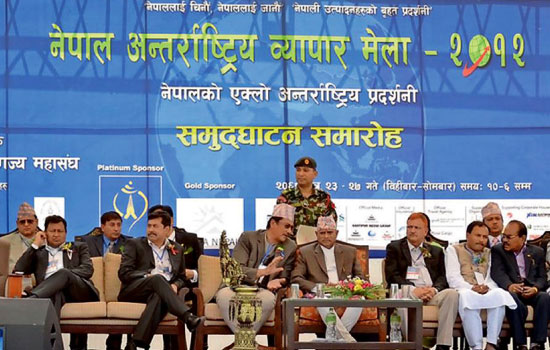 President Dr Ram Baran Yadav today inaugurated the five-day long Nepal International Trade Fair 2012. During the inauguration, the president admired the initiative taken to host the international trade fair in the country.
He also focused on giving continuity to the trade fair for the promotion of Nepali products. "This is a great initiative of the government and private sector for the economic development of the nation," he said.
Chairman of Branding and Income Generating Committee of Federation of Nepalese Chambers of Commerce and Industry (FNCCI) Kalyan Krishna Tamrakar informed about the lack of the ATA Carnet system. According to Tamrakar, about 20 Korean companies and 17 companies from Bangladesh failed to participate in the trade fair due to complications at the customs. "There is no facility for foreign countries participating in trade fairs in our country due to the lack of the ATA Carnet system," he said.
Meanwhile, president of FNCCI Suraj Vaidya, while addressing the programme, urged the government to grant the private sector an appropriate space to build an International Exhibition Centre. "We lack proper space to organise international trade fairs and exhibitions," he said and added that the private sector is ready to develop a world class venue to host international exhibitions.
During the programme top Nepali Bazar, Japan and Aakar GAMBH, Germany were felicitated as top two importers of Nepali products. The Nepal International Trade Fair 2012, the first of its kind in the country, is being organised by FNCCI in cooperation with the government from April 5 to April 9 at Bhrikutimandap.
The government has provided a support of Rs 4.6 million for the event, especially for the promotion of products identified in Nepal Trade Integration Strategy. The trade fair has a total of 380 stalls of 350 companies from various countries. The organisers have expected about 200,000 visitors during the trade fair.
The expo also aims to promote Nepal's international trade and enhance the growth of Nepali exportable products, specially identified in the Nepal Trade Integration Strategy.(Source:THT)