Domestic airlines hike fuel surcharge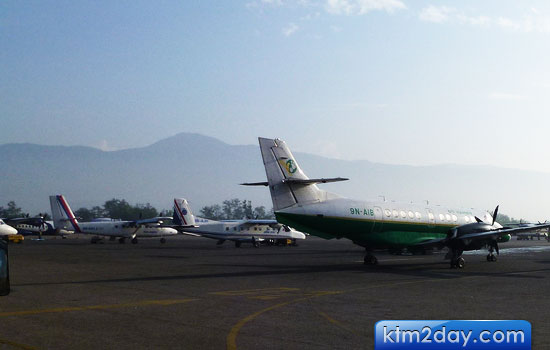 The Airlines Operators Association of Nepal (AOAN) has decided to increase fuel surcharge on all domestic flights from September 5 following the hike in aviation fuel price on Sunday.
The Nepal Oil Corporation (NOC) hiked the aviation turbine fuel (ATF) price by a steep 10.09 percent to an all-time high of Rs 120 per litre. This is the third that AOAN has revised fuel surcharge this year.
An AOAN meeting on Monday announced the increase in fuel surcharge ranging from Rs 145 to Rs 425 (depending on distance) on all domestic flights.
According to domestic carriers, they were forced to ramp up fuel surcharge, as fuel contributes 30 percent to their overall operating costs. "As jet fuel constitutes almost half of an airline's operating costs, they become the single biggest factor in losses," said Vinaya Shakya, senior manager of Yeti Airlines. "The ultimate burden of jet fuel hike is passed on to travellers."
Domestic airlines are permitted to increase fuel surcharge if ATF price goes up by Rs 4 and above. With the increase in fuel surcharge, ticket prices will go up by Rs 145 for Bharatpur while the Dhangadi sector will see the highest hike of Rs 425. For mountain flights, passengers will have to pay an additional $6 as fuel surcharge.
AOAN officials said it was not fair that NOC enjoy a profit of Rs 19.40 on a litre ATF, hurting airline profits. "The coming days look like worse for airlines," they said.
Domestic airlines recorded a growth of 15.04 percent in passenger numbers in the first quarter of 2012 compared to the same period last year. Eleven airline companies (fixed wings and rotor wings) flew a total of 396,086 passengers in the first three months of 2012, an increase of 51,793 compared to a year ago, according to the Tribhuvan International Airport (TIA).
FUEL SURCHARGE ADJUSTMENT
| Sector | Increment | New surcharge | Fare | Total fare |
| --- | --- | --- | --- | --- |
| Mountain | Rs 410 | 4,500 | 4,490 | 8,990 |
| Dhangadi | Rs 425 | 4,650 | 5,155 | 9,805 |
| Nepalgunj | Rs 320 | 3,525 | 3,635 | 7,160 |
| Bhadrapur | Rs 300 | 3,300 | 3,235 | 6,535 |
| Biratnagar | Rs 255 | 2,775 | 2,930 | 5,705 |
| Bhairahawa | Rs 225 | 2,475 | 2,540 | 5,015 |
| Pokhara | Rs 185 | 2,025 | 2,010 | 4,035 |
| Tumlingtar | Rs 180 | 1,960 | 2,745 | 4,705 |
| Janakpur | Rs 165 | 1,800 | 1,655 | 3,455 |
| Bharatpur | Rs 145 | 1,575 | 1,435 | 3,010 |
(Normal airfare from Kathmandu)