SML Isuzu buses, truck make Nepal debut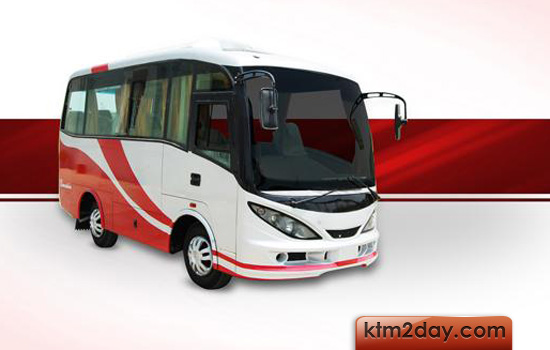 National Motors, the authorised distributor of Swaraj Mazda in Nepal, has been appointed the national distributor of SML Isuzu vehicles. SML Isuzu, a manufacturer of light commercial vehicles for goods and passengers, was set up after Swaraj Mazda India and Isuzu agreed to jointly produce vehicles. Meanwhile, National Motors has launched two variants of buses and a truck model to mark its entry into the Nepal market.
"SML Isuzu vehicles have been praised by consumers in the Indian market, and we are confident about a similar run in Nepal," said Manoj Bikram Shah, general manager, sales and marketing at National Motors. "All these new vehicles have class leading features." Shah added that the company has a good record in institutional sales, and the vehicle has been launched keeping in mind the requirements of the local market. Of the two models, the S7 bus has been designed with the needs of schools and colleges in mind. Equipped with a 3,455 cc SLTR and Numeral, four-cylinder in line – OHV engine, the vehicle has a maximum power output of 75 kw at 3,000 rpm and a peak torque of 270 nm at 1,750-2,000 rpm. "The S7 Bus has a drastically different appeal.
We are sure that the vehicle will prevail over its competitors," Shah said.
Features required for school and college buses like emergency door, peep window for driver, low step entry, bag storage space, grab handles and hooks for bottles, anti-skid flooring, armrest, notice board, window rails, stop sign and hat-rack along with spacious windows have been incorporated in the vehicle. Including the driver, the bus can accommodate 41 people.
National Motors plans to launch the S7 bus having a seating capacity of 32 seats in the near future. "Since this bus is longer, it will appeal to the market outside the Kathmandu valley," Shah said. Likewise, the Executive mini bus which can accommodate 15 passengers is equipped with a four-cylinder, in-line direct injection water-cooled turbo-charged engine. The engine which has a displacement of 3,455 cc can produce a maximum power of 100 ps at 3,000 rpm.
According to Shah, the vehicle will cater to the demand of companies that need to provide pick-up and drop-off facility to its employees. "Ever since its entry in Nepal, we have received more than 60 queries. We are elated with such a response and are expecting a very good run of this particular model," Shah said. The vehicle has a comparative advantage in Nepal as there are no competing models, he added.
The executive vehicle from SML Isuzu features an aerodynamic shape, roof mounted A/C with individual ducts, reading lights, hat racks, DVD players with LCD screen, driver controlled passenger door, tinted sealed glass and curtains, among others.
The IS12TE is a cargo truck which, according to National Motors, can carry the heaviest load among SML Isuzu truck models. The vehicle has been mated with a four-cylinder, OHC direct injection, water-cooled turbo-charged 5,193 cc engine. The vehicle can churn out a maximum power output of 110 kw at 2,600 rpm. The company believes that the vehicle's capacity will make it popular in the segment.
National Motors has priced the S7 bus at Rs 3.3 million, the Executive mini bus at Rs 3.9 million and the IS12T truck at Rs 3.3 million.