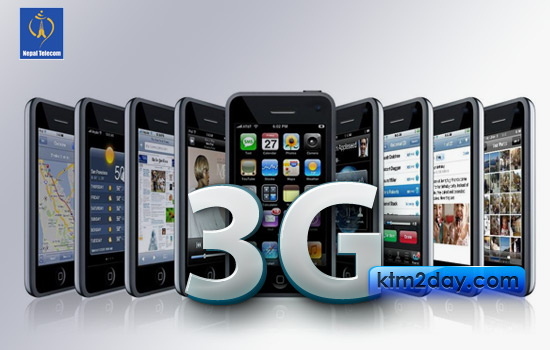 Nepal Telecom (NT) is preparing to pay only Rs 600 million in 3G frequency fee, citing loss in service even though the new spectrum policy requires all telecom operators to pay Rs 1.44 billion.
After the implementation of new policy—the Telecommunications Radio Frequency Distribution and Pricing Policy 2012—the Nepal Telecommunications Authority (NTA) had twice directed the state-owned telecom operator to pay Rs 1.44 billion for the use of the 3G spectrum for six years, from 2006-2007 to 2011-12.
However on Monday, it informed the NTA and Ministry of Information and Communications that it would pay fee only for the period of two-and-half years, amount to Rs 600 million.
NTA officials said that since the policy deciding the 3G spectrum rate was already in place, NT had to follow it. They said that the NT would have to pay full fee for six years. "Even if it pays only Rs 600 million, we will again ask the company to clear the remaining amount," said Amar Sthapit, deputy director at the NTA.
Based on the new policy, NT requires to pay Rs 240 million each year for using 2×10 MHz of 3G spectrum for six years. However, the company had been demanding the government charge fee only after 2010 because of the loss in 3G service and higher rate of spectrum charge.
A week ago, after a consultation with telecom companies, the NTA had extended the deadline until mid-April for NT to clear the dues.
"We are preparing to pay the 3G fee as per our board decision," said Rajesh Joshi, NT's deputy spokesperson, adding that they were planning to pay the fee within next week.
NT has been saying that it incurred losses in the early years of 3G service, even though the company launched the 3G service in 2007—the first in South Asia at the time. A member of the NT board said that the company had started the 3G service with 10 base transcriber stations provided free by ZTE Corporation in Kathmandu, while buying 3.5 million GSM mobile line package in 2007.
"Initially, NT was allocated 3G spectrum for one-year test period so we need to look into such issues," said Surya Prasad Silwal, secretary of the Communications Ministry, who also chairs the NT board. He added that the 3G spectrum fee issue would be discussed in the Radio Frequency Determination Committee soon to decide whether to address the NT's demand.
If NT pays less, Ncell, the other private sector mobile service operator, is likely to follow suit on the grounds of equal treatment from the government, argued a ministry official.
Ncell also owes Rs 1.20 billion to the government in 3G fee for five years, starting from 2007-08. "It is the failure on part of NT to promote its product and capture market," said the official, adding that Ncell was doing good business in 3G service.