Chinese automobiles making inroads in Nepal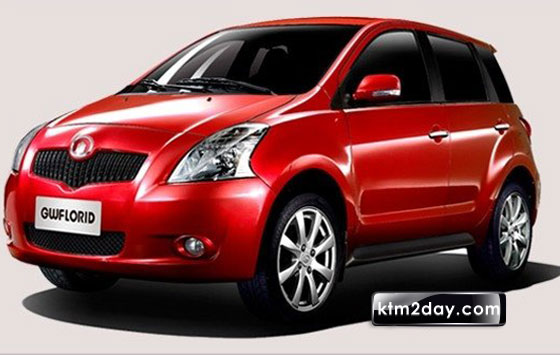 Gone are the days when people shied away from buying Chinese automobiles. With growing influence of China in the world economy, Chinese carmakers are increasing their penetration in the global market. And being an immediate neighbour, Nepal too isn't an exception.
The visibility of Chinese automobiles on Nepali roads has increased sharply. Traders estimate the demand for Chinese automobiles in Nepal is swelling by around 10-15 percent annually. The number of inquiries — although the sales conversion rate is still on the lower side — too has surged massively, say traders.
Vehicle brands like Gelly, Cherry, Great Wall and Lifan, among others, are doing very well in the domestic market. "If you compare to some three-five years back, sales of Chinese automobiles have taken a big leap. However, they are still to unleash their actual potential," said Prabal Saakha, managing director of Saakha Group.
Saakha & Universal Automobiles, a subsidiary of Saakha Group, deals in popular Chinese automobile brand Geely.
According to Saakha, competitive pricing and superior features are the driving force behind the increasing sales of Chinese automobiles in Nepal. "People today look for the value for money in whatever they purchase. Since Chinese automobiles are economic compared to other vehicles and boast superior features, more and more people are liking them," he said, adding Chinese vehicles are around 10-20 percent cheaper than the competition.
Increasing penetration of Chinese vehicles is also boosting vehicle buyers' confidence. While people, until a few years ago, had a "total misconception" about vehicles imported from the Northern neighbour, increasing visibility of the vehicles now has helped people become conscious and confident about Chinese vehicles. "Since the government has identified automobiles as luxury goods and people need to make big investment to purchase them, they were somewhat sceptic
about Chinese vehicles earlier," Saakha said. "Now, with increasing awareness and the Internet being a major tool for conducting research before buying, people are becoming more confident about Chinese automobiles."
Despite having earned a good reputation, traders say Chinese vehicles are still not being able to perform the way they should have. "For people here, Chinese vehicles come forward as an option after the vehicles manufactured by American, Japanese, Korean and Indian manufacturers," Saakha said.
Also, the slow growth of the sector has played spoilsport to expansion plans of dealers of Chinese vehicles in Nepal. "Since vehicle sales are still low, it is difficult for us to expand our sales and service network and this has played a key role in minimising the growth of Chinese vehicles here," he said.