US Dollar Inches closer to 100 Line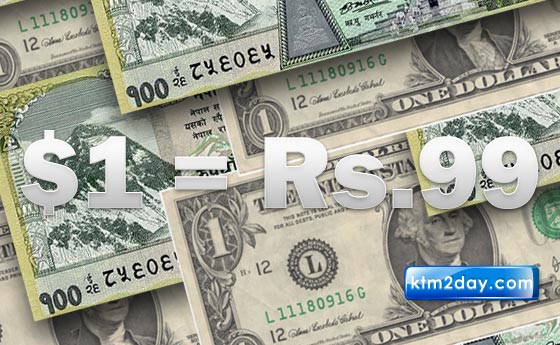 Nepali rupee has dipped to historic low of 99.02 against US dollar, as the Indian currency, with which Nepali rupee is pegged, continued its losing streak against the greenback.
Nepal Rastra Bank, the central monetary authority, has fixed the exchange rate with US dollar for Saturday and Sunday at 99.02, marking a los of 44 paisa compared to Friday´s exchange rate. Rupee had set the previous low of 98.60 against the greenback on August 6. The Indian currency plunged to record low of 62.03 against US dollar on Friday.
According to Reuters, the Indian rupee fell to a record low on Friday as measures to curb foreign currency outflows were seen as the latest roll of the dice by policymakers struggling to defend the currency in a slowing economy and a toughening global investment environment.
"Policymakers have cobbled together a slew of steps over the past month in a bid to halt the rupee´s slide, including the Reserve Bank of India´s extraordinary steps on July 15 to drain cash from the system and raise short-term interest rates in an economy already growing at a decade low. Yet none of the steps unveiled so far have convinced investors that India can attract overseas investments, which is seen as essential in narrowing a record high current account deficit that is the biggest source of the rupee weakness," mentions Reuters.