NAC ignites price war; launches promo fares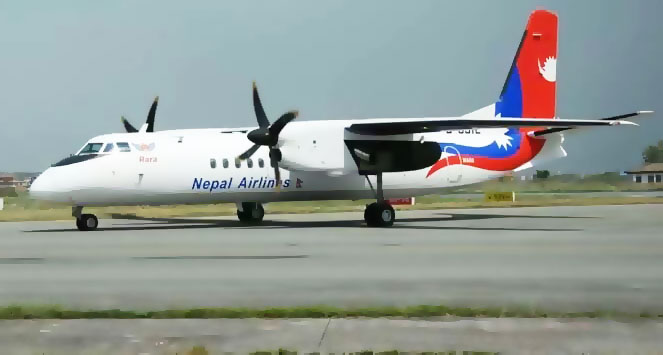 A day after it received one of the six aircraft on orders from China, Nepal Airlines Corporation (NAC) has announced promotional fares—nearly half of what private airlines are charging—on the major trunk routes.
The promotional airfare scheme, which will come into effect from May 15 and is expected to last for at least a month, gives an indication that NAC could adopt aggressive pricing strategy, heating up competition in the domestic aviation.
On Sunday, ending a 28-year drought, NAC added a Chinese-made Modern Ark 60 (MA60) aircraft to its domestic fleet. With this 56-seater turboprop, the national flag bearer will resume flights on trunk routes after almost 12 years. Before the arrival of the MA 60, NAC had just one ageing Twin Otter in its domestic fleet.
NAC Spokesperson Ram Hari Sharma said after the end of the promotional fare scheme, the normal airfares would be some 20-22 percent cheaper than what other private carriers charge.
NAC has set the one-way promotional fare for Kathmandu-Dhangadhi sector at Rs 5,740, while the normal fare of private carriers on the sector stands at Rs 11,795. For KTM-Bhadrapur sector, NAC will charge Rs 4,130 compared to Rs 8,165 charged by private airlines.
Similarly, NAC's promotional fares for KTM-Biratnagar and KTM-Bhairahawa routes are Rs 3,505 and Rs 3,145, respectively. On the same routes, normal fares of private carriers are Rs 7,075 and Rs 6,205, respectively.
"We will focus on service delivery first and competition will be part of our business," Sharma said. "Either it is on service or airfare, our aim is to serve travelers at reasonable rates."
Sharma, however, said NAC will go for a healthy competition.
Industry insider say NAC, which plans to make an aggressive comeback in the market, is likely to impact two major domestic players—Buddha Air and Yeti Airlines—forcing them to go for price cuts.
"Given the market trend, competition will obviously increase," said Rupesh Joshi, executive manager at Buddha Air. "However, we have not yet decided what our strategy will be as NAC will only have a single aircraft at present to serve trunk routes," he said.
Normally, the occupancy of domestic carriers largely depends on the pricing structure—if airfares drop, airlines gets more flyers. However, Yeti Airlines believes on quality and safety as major "passenger attracting mantra". "The price difference will not make much difference as far as loyal clients are concerned, but price-conscious travelers may shift," said Roshan Regmi, marketing manager at Yeti Airlines.
What encourages NAC to go for a price war is it does not have to repay loans and interest for at least seven years. As per the commercial agreement signed between Nepal and China, NAC has been offered a seven-year grace period for loan repayment. This will allow NAC to enjoy
earnings for at least seven years, or it has to repay its loan and interest in 13 years on an installment basis.