Spice Mobile launches three new handsets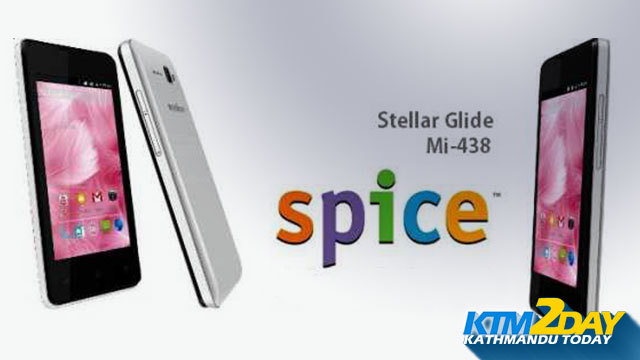 Spice has launched three handsets, including two bar phones — the M-5377 and M-5470 — and an android smartphone — the Mi-438.
The M-5470 comes with a 3.2-inch screen and is powered by 2,500mAh battery.
The M -5377 has a 2.4-inch screen and 1,850mAh battery. Both the phones feature a 1.3MP camera, multi-SIM, bluetooth, audio/video player and recorder, WAP/GPRS and FM radio.
The Mi-438 is powered by 1.3GHz dual core processor and runs Android 4.2 Jellybean OS. Other features include dual-SIM functionality, 4-inch screen, 4GB ROM, 512MB RAM, 2MP rear and 1.3MP front cameras.
The smartphone has 1,350mAh battery. The company provides a free leather case with the handset. (PR)
Daily Business Brief
Ncell lowers call rates
KATHMANDU: Ncell, country's leading mobile service provider has lowered tariff to European Union nations, making calls to 28 European countries more affordable for all its customers.
Under the new rates, Ncell customers would now be able to call to European Union Countries, including the United Kingdom, Sweden, Germany, France and Italy, among others, at Rs 4.99 per minute, excluding taxes.
The new tariff is coming into effect from July 8. The customers need not dial any additional number to talk to their loved ones at the new tariff.
It is applicable for all Ncell pre-paid and post-paid Ncell customers throughout Nepal. However, premium numbers will be charged premium rates, as per the press release issued by the company.
CG offers scholarships
KATHMANDU: Chaudhary Group has provided scholarships to four students of Adarsha Higher School, Sano Thimi, Bhaktapur. Chaudhary Group MD Nirvana Chaudhary distributed the scholarships to Asmita Thapa Magar, Tulasi Siwakoti, Lok Bahadur Shrestha and Ashok Khadka. They were awarded with the scholarships for their best results in the SLC exams. Speaking at the programme, Chaudhary encouraged the students to concentrate on their studies and maintain good grades, adding the group was planning to increase the number of scholarships. (PR)
Flights to Varanasi
KATHMANDU: Buddha Air is resuming its flights to Varanasi, India from first week of August to facilitate devotees who wish to visit the place for pilgrimage. It will be flying twice a week to Varanasi on Mondays and Tuesdays. Since August is regarded as an auspicious month to visit Varanasi, the airline is resuming its Kathmandu-Varanasi air service from this month. The city is regarded as the holy place for Hindus, Buddhists, and Jains. Even as Buddha Air started flying to Varanasi in 2011, it has been operating service only during pilgrimage seasons.
Mobile apps training
KATHMANDU: Nepal AOTS is organising a training cum workshop programme on mobile application development. The five-day event is targeted to motivate start-up companies and programmers to create apps for local and international market. Discussion on mobile apps trends in Japan and world, a half-day competition on mobile apps and discussion on different mobile environment are some of the features of the training programme. The training will be held from July 21 to 25 in Lalitpur. The organisers say that the event will help Nepali companies and programmers to enhance their skills and give an opportunity to promote their creativity. The registration fee to participate in the training has been fixed at Rs 10,000 per participant.