Kathmandu-Delhi bus service to begin today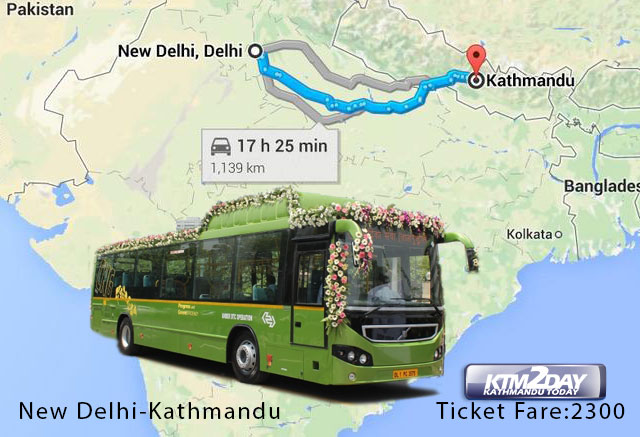 The direct public transport service from Kathmandu (Nepal) to New Delhi (India) via Sunauli border is starting formally from Tuesday.
Prime Minister Sushil Koirala and Indian Prime Minister Narendra Modi are scheduled to jointly inaugurate the service amid a function in Singhadurbar on Tuesday afternoon, according to the Ministry of Physical Infrastructure and Transport (MoPIT).
Modi is arriving in Kathmandu on Tuesday to take part in the 18th SAARC Summit.
The bus service, being formalised as a part of Motor Vehicle Agreement (MVA) between the two nations, will operate on three cross-country routes — Kathmandu-New Dehli, Pokhara-New Delhi and Kathmandu-Benares.
"After the signing of MVA, prime ministers of both the countries are scheduled to inaugurate the bus service," said Tulasi Prasad Sitaula, secretary of the MoPIT. He said that a bus will leave for New Delhi after the inauguration and a passenger bus will leave from New Delhi for Kathmandu.
In New Delhi, Nitin Jairam Gadkari, minister for road, transport, highways and shipping of India, will inaugurate the service.
As per the MoPIT officials, the one-way charge for Kathmandu-New Delhi route has been agreed at Rs 3,680 (IRs 2,300) and only luxury deluxe buses will be put on the service.
It is expected that signing of MVA will facilitate the movement of both private and public vehicles. The MVA has envisaged making provisions of acquiring permission to travel to either country in personal vehicles hassle-free.
Some transporters and tour operators have already been operating direct bus service between the two Capitals and Pokhara-New Delhi route too.
According to transport entrepreneurs, around six dozen deluxe vehicles are already in operation on the Kathmandu-New Delhi route.
It normally takes 20 hours to reach New Delhi from Kathmandu.
After the MVA smoothens the procedure for vehicular movement, a traveller from Kathmandu is expected to reach New Delhi within 18 hours.
So far, vehicle movement between two countries is being allowed on the basis of understanding reached in the 1960s. Even as the MVA for passenger vehicles was initiated in 2004, both the countries are yet to sign it. MVA will be a guideline to operate direct bus services on designated routes, fix fares, facilitate bus operators to get route permits, pay taxes, among others.
In the absence of such agreement, the bus operators currently need to take route permit before entering either country. Sitaula said that based on the experience on the three routes in the first phase, the two governments are also positive about opening more routes in the future.