Yarsagumba lifts living standard of rural Nepalis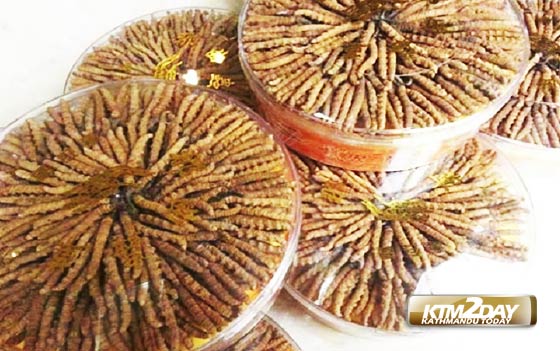 A family can easily earn as much as Rs 600,000 during yarsagumba harvesting season from mid-May to mid-July, making the unique Himalayan fungus a major agent of change in living standard of the country's rural people, a report released today by Nepal Rastra Bank states.
Each piece of harvested yarsagumba yields around Rs 800. This way a collector earns an average of Rs 120,000 during the season, states the report.
Since entire families in rural areas rush to pick up the fungus during the peak season, each of them stands to earn Rs 600,000 — which is almost eight times Nepal's per capita income of Rs 76,065. "This is an indication that yarsagumba collection can lift living standard of people," says the report.
Yarsagumba, which has various medicinal values and is also referred to as 'Himalayan Viagra', is the most expensive bio-resource available in the world today.
Its demand started going up rapidly after 1993 World Athletics Championship, during which Chinese athletes had set new world records. It is said these athletes were consuming yarsagumba as tonic, which enhanced their performance, says the report.
Since then demand for this bio-resource has been going up, while supply has been limited, which is increasing its price.
In March 2012, a kg of yarsagumba was sold for $100,000 in China. Price of per kg of the Himalayan fungus in the same year rose to as much as $130,000 in Singapore. In that year, price of per kg of gold stood at $68,000.
Annual production of yarsagumba worldwide stands at 83 to 183 tonnes and they yield $5 billion to $11 billion per year.
Currently, China is the largest producer of yarsagumba and meets 95 per cent of the world demand.
So far, Nepal is the second largest supplier of this fungus, with official annual production standing at three tonnes. India, on the other hand, supplies 1.7 to 2.8 tonnes of yarsagumba per year, while Bhutan's annual production hovers around 0.5 to 1.5 tonnes.
Around 500 different species of yarsagumba are found worldwide. Of these, 11 are found in 25 districts of the country at an altitude of 3,540 to 5,050 metres.
However, yarsagumba is collected at commercial level from 12 districts — Darchula, Dolpa, Jumla, Mugu, Bajang, Rukum, Myagdi, Manang, Gorkha, Rasuwa, Sindhupalchowk and Sankhuwasabha.
Most of the yarsagumba collected from these districts find their way to China. But lately, demand has also been going up in Korea, Taiwan, Hong Kong, Myanmar, Thailand, Singapore, Japan, the UK and the US, says the report.
Yarsagumba was first collected in Nepal from Chakure Lek of Jumla in 1952. It's trading, however, began in late 1980s in Dolpa. At that time, price of each kg of yarsagumba stood at Rs 700.
Later, Forest Regulation of 2051BS banned collection of yarsagumba and anyone caught with the fungus was fined Rs 500 per piece. The ban was lifted around seven years later and a tariff of Rs 20,000 was fixed for collection of every kg of yarsagumba — albeit exports of unprocessed yarsagumba were banned. The export ban was lifted a decade ago and tariff on collection of each kg of yarsagumba was reduced to Rs 10,000 at that time.
But in October-November of 2015, tariff on collection of each kg of yarsagumba was raised to Rs 25,000, says the report.
These days thousands of people in mountainous areas of the country rush to pick up yarsagumba during peak season. In 2014-15, 53,000 people officially joined the bandwagon to collect yarsagumba in Dolpa alone, where high quality of yarsagumba are available, says the report.
As more and more people from mountainous region are rushing to pick up yarsagumba, the government's revenue collection is also rising. The government collected Rs 24.59 million in revenue in 2013-14 — up 109 per cent from the previous fiscal.
Also, communities are using money collected from yarsagumba harvesters for development purpose.
"In Tanki-Manang village of Manang district, Rs 30 million collected from yarsagumba harvesters was used to build community micro hydro project of 160 kilowatt," says the report, adding, "Local economies of various districts become vibrant whenever the collection season approaches, increasing money supply."
Yet, actual impact of yarsagumba collection and trading is difficult to comprehend because harvesting is sometimes done clandestinely and is sold in the black market, adds the report.