YouTube creates localized homepage for Nepal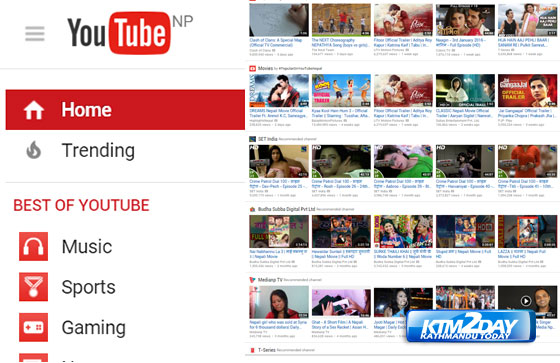 YouTube users in Nepal can now watch videos trending in Nepal at the site's homepage from Tuesday.
According to Google's Asia pacific blog, starting yesterday, YouTube users in Nepal, Pakistan and Sri Lanka will see a customised YouTube homepage in local language and domain.
The popular video site, last year, has already offered offline viewing facility to Nepal.
"YouTube is already available in Nepali, Sinhalese and Urdu, and now having country-specific homepages means we can bring you the most relevant videos in a YouTube experience tailored for you," said Google.
YouTube Nepal can be differentiated from others by "NP" embedded in the YouTube logo. The site has paved the way for the work of more local creators, personalities and musicians to shine on the world's largest and most vibrant video community.