Nepal Airlines to fly Dubai from Aug 18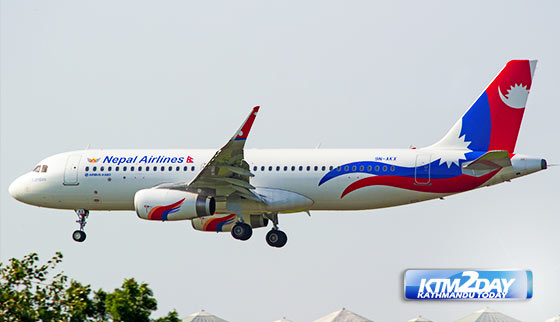 Nepal Airlines Corporation (NAC) on Thursday announced that it would be resuming its Kathmandu-Dubai service on August 18, four years after it was suspended due to lack of aircraft.
Spokesperson for the national flag carrier Ram Hari Sharma said they would be conducting three flights weekly on Tuesdays, Thursdays and Sundays. NAC is also offering the lowest promotional airfares on the sector of Rs25,000 one way and Rs42,000 return.
"We have not set a deadline to end the promo fares; but even after the end of the scheme, we will be continuing to offer competitive fares," said Sharma.
NAC stopped its Kathmandu-Dubai flights in 2012. The UAE is the fourth largest destination for Nepali migrant workers.
According to Economic Survey 2015-16, in the first eight months of this fiscal year, 34,975 Nepali migrant workers left the country to work in the UAE. More than 200,000 Nepalis are estimated to be working there presently. They send home nearly Rs80 billion every year.
Meanwhile, the state-owned airline is set to restart services to Guangzhou, the third largest city in South Central China, by September.
NAC's plan to increase the number of destinations has been prompted by the arrival of two Airbus A320 jets last year. "By the end of this year, we will be serving nine international routes compared to seven at present," said Sharma.
During its heyday, the airline used to fly to Amsterdam, Colombo, Dhaka, Frankfurt, Karachi, London, Osaka, Paris, Shanghai, Singapore and Vienna, besides five Indian cities—Bengaluru, Delhi, Kolkata, Mumbai and Patna.
It presently connects Kathmandu with Doha, Kuala Lumpur, Hong Kong, Bangkok and three cities in India—Mumbai, Delhi and Bengaluru.
Meanwhile, NAC said that it had repaid Rs323.61 million to the Employees Provident Fund on Thursday, the fifth instalment of the Rs10 billion loan it had taken to buy two new A320s.
The airline has made loan repayments totalling Rs1.59 billion so far. The loan matures in 15 years and NAC is required to make interest and instalment payments on a quarterly basis.