Dusit Int'l and several chain hotels set to enter Nepal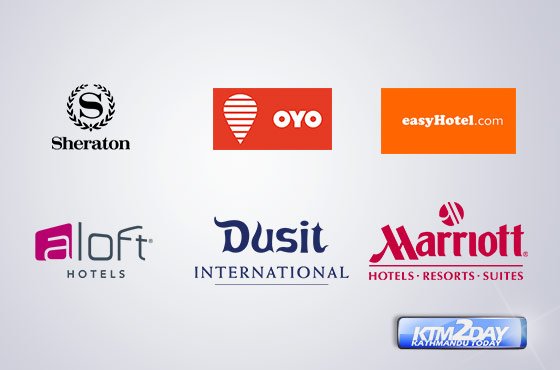 Several luxury and budget hotel chains are poised to make a foray into the Nepali market, reflecting increased investor confidence in the hospitality sector.
Multinational hospitality company Dusit International based in Bangkok, Thailand has signed a management agreement with Omstone Asia Capital Nepal to operate the Dusit Thani Himalayan Resort & Spa, the first Dusit-branded property in Nepal, the company's website said.
The luxurious mountaintop resort is slated to open in Namo Buddha, Kavre in 2020. It will offer 44 well-appointed guest rooms and 20 exclusive villas, each providing magnificent views of the majestic Himalayan range.
"The Dusit Thani Himalayan Resort & Spa brings wellness and well-being to the fore in a magnificent setting that invigorates the mind, body and soul," said Suphajee Suthumpun, group chief executive officer of Dusit International.
"In keeping with our brand promise to uniquely deliver gracious hospitality to the world, we will do all we can to ensure our destination resort has a positive impact on the local environment and community, and we look forward to making it a huge success."
Dusit International has 29 properties currently in operation across four brands in eight countries.
Likewise, London-based budget hotel chain easyHotel is in advanced talks with Nepal's Incentive Group of Companies (IGC) to form a franchise agreement to develop hotels in Nepal and northern India.
As per initial talks, 300 rooms will be opened within the next three years with the first hotel to be located in Kathmandu scheduled to launch by the end of 2018.
"We are delighted to enter into this new partnership with IGC Nepal which is a testament to easyHotel's strong brand recognition. IGC has established a significant geographical foothold in the region in a number of business areas, many of which are targeted towards value conscious consumers, which makes them a great cultural fit for easyHotel," Chief Executive Guy Parsons said in a statement.
Meanwhile, Indian hotel brand OYO Rooms has announced that it will be launching its debut hotel in Kathmandu. Started in 2013, OYO's network is spread across India and Malaysia.
One reason for OYO to consider Nepal as a destination for expansion is the data from the Department of Immigration, which states that of the 174,803 tourists who visited Nepal in 2016, the highest number came from India.
"Our network has witnessed robust growth to become the largest in India. After our successful overseas foray into Malaysia, we are now thrilled to offer OYO's hassle-free and standardized stay experience to travellers visiting Nepal," Ritesh Agarwal, founder and CEO of OYO, said in a statement.
In 2016, India's most celebrated luxury hotel chain Taj re-entered Nepal by signing a management contract with Chaudhary Group (CG) Hotels and Resorts to operate the Meghauli Serai Jungle Lodge in Chitwan.
Likewise, globally reputed bands like Marriott, Aloft, Sheraton and others have signed management contracts with Nepali entrepreneurs to establish their presence in Nepal.