Runner Bike swoops into Nepali market with 7 bikes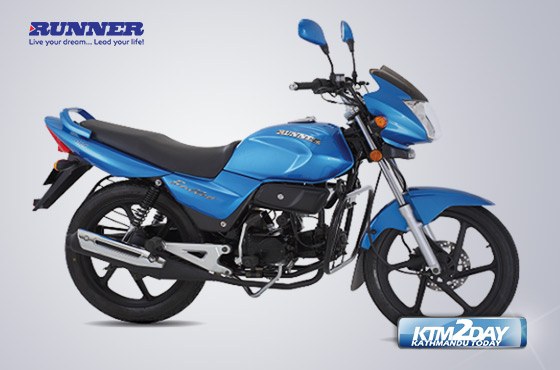 Runner Automobiles, a major motorcycle manufacturer from Bangladesh has entered the Nepali market with 7 models of motorcycles.
They are looking to target the entry level segment, with offerings ranging from 80cc to 150cc motorcycles. The official distributor for Runner motorcycles in Nepal is Raman Motors, a subsidiary company of Raman General.
The new motorcycles from Runner were unveiled by Chairman of Runner Group of Companies, Hafizur Rahman Khan; MD and CEO of Runner Automobiles Mukesh Sharma; and Raman Mahato, CEO of Raman Motors on Saturday.
According to the company, their motorcycles' unique selling points are good fuel efficiency and easy availability of spare parts. All motorcycles in Runner's line-up are equipped with a single cylinder, 4-stroke, air cooled engine.
"Runner has ventured into Nepal market with a long term vision of building Runner as a reliable and trusted brand by Nepali customers offering reliable, high quality motorcycles," Khan.
Raman Motors has appointed 10 dealerships across Nepal and intends to further expand by appointing another 20 showrooms and service centres all over the country within the next six months, reads the press release.
"Runner carried an extensive survey to understand the needs of customers in Nepal and has tailored a portfolio of products in the commuter (entry & premium) and sports bike segment," said Sharma.
He added that Runner will give special focus on after sales service and availability of spare parts across Nepal for its motorcycles.
Runner is one of the biggest and best selling motorcycle brands in Bangladesh with over 200 dealers and 400 distributors in the domestic market of Bangladesh. It has a production capacity of more than 500 bikes per day.
Runner Bikes Price in Nepal 
Runner Bike RT-86cc – NRs. 148,000
Runner AD 80 Deluxe – 85cc –  NRs.  161,000
Runner Royal+ Scooter  – 110cc –  NRs.  179,000
Runner Cheetah-100cc – NRs. 163,000
Runner Kite+ – 110cc –  NRs. 179,000
Runner Bullet – 125 cc-  NRs.  188,000
Runner Knight Rider – 150cc-  NRs.  235,000