Nepal becomes self-sustained in eggs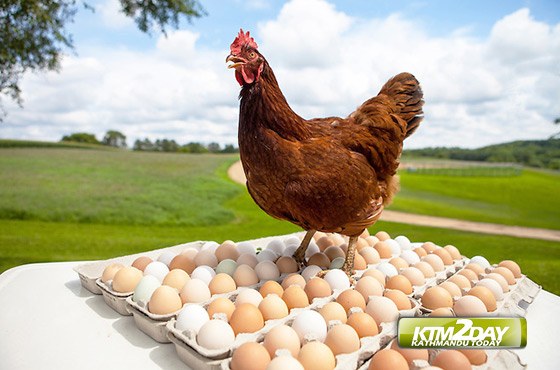 Three years after the government announced that it would make the country self-sustained in eggs, the target has finally been met.
According to Nepal Egg Producers Association (NEPA), Nepal has started producing eggs as per the domestic demand.
Earlier in 2014, the government had announced it would make the country self-sustained in meat, eggs and milk.
"With continuous effort from both the government and poultry farmers, annual production of eggs has increased by more than 40 per cent in recent years compared to production recorded three years back. The production is enough to cater to the demand for eggs in the domestic market," said Shivaram KC, president of NEPA.
As per statistics maintained by NEPA, more than 1.3 billion units of duck and chicken eggs are being produced in the country every year in recent years. As per NEPA, Nepal had been producing an average of 900 million units of eggs per annum three years ago.
"With government prioritising poultry business, farmers have been lured towards commercial poultry farming recent ly, which has contributed to increased production of both chicken and eggs," said KC.
Egg production has been increasing in the country since last three years. As per NEPA statistics, Nepal produced 13 million units of duck eggs and 859 million chicken eggs in fiscal 2014-15. Egg production increased to 13.5 million units (duck) and 866 million (chicken) in fiscal 2015-16. Egg production was recorded at 13.39 million units (duck) and 1.3 billion (chicken) in 2016-17.