Buddha Air to welcome its 10th aircraft 72-seater ATR 72-500 series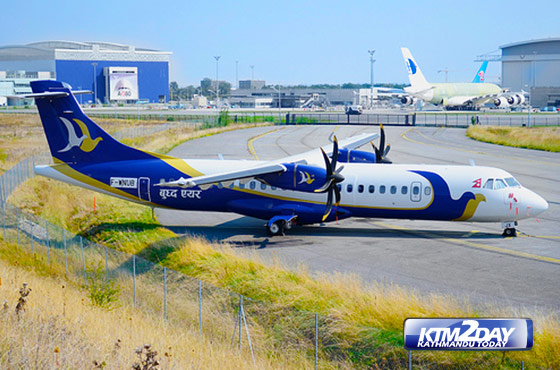 Buddha Air is taking delivery of its 10th aircraft on Thursday.The 72-seater ATR 72-500 series aircraft will land at the Tribhuwan International Airport, Kathmandu, on Thursday. The airline purchased the aircraft at Rs 1 billion.
"The ATR 72-500 series airplane will be the fifth of its kind currently under our possession and the tenth aircraft we own," Birendra Bahadur Basnet, managing director of Buddha Air, told Republica.
With the arrival of new aircraft in its fleet, Buddha Air has planned to increase the number of flights to 50 from existing 35 flights per day.
"From February 20, we aim to operate 50 domestic flights every day. We expect the weather condition in the tarai to improve by then and the daylight period to increase," said Basnet.
The aircraft will be coming to Nepal from New Caledonia, stopping at Australia, Indonesia, and Bangkok before landing at TIA, according to Buddha Air officials.
Civil Aviation Authority of Nepal (CAAN) has given the aircraft '9N-AMF' call sign.
Rupesh Joshi, marketing director of Buddha Air, said that he was hopeful that the new aircraft will elevate the company's credibility among costumers and provide affordable and high-quality airline service.
Buddha Air aims to provide year-round airline service with the addition of the new aircraft. Nine airplanes of the company have a total maintenance period of 270 days. This means each airplane remains out of operation for 30 days. With the arrival of a new airplane, the company expects to be able to have at least nine airliners operational so that passengers do not face inconvenience at any given time.
The factory price of ATR 72-500 aircraft is Rs 2.25 billion. The plane that Buddha Air is bringing has been in operation for a couple of years.
Buddha Air holds the license permission to operate flights to destinations, both inside and outside the country, which can be reached within 2.5 hours.
With a total workforce of 850, the airline commands 63 percent share in Nepal's domestic aviation market. Buddha Air has already announced to operate international flights once Pokhara International Airport becomes operational in August, 2021. It has also unveiled plans to operate direct flights from Kathmandu to Kolkata (India) from September.
Buddha Air currently operates four 72-seater ATR 72-500 aircraft, three ATR42-320 having 47 seats and two 18-seated Beechcraft 1900D series aircraft. The airliners are worth Rs 6.25 million. The airline company also has Rs 1.25 billion in reserve fund.
Buddha Air operates over three dozen flights to Nepalgunj, Bhairahawa, Bharatpur, Simara, Janakpur, Biratnagar, Bhadrapur, Pokhara, Dhangadhi and Tumlingtar every day.