Huawei launches Mate 10 Pro in nepali market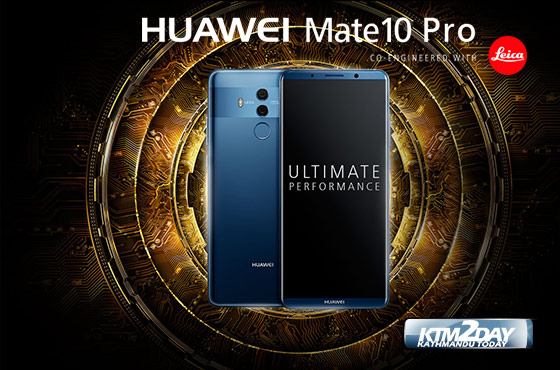 Huawei has announced the availability of its new model Mate 10 Pro in the Nepali market. Issuing a statement, the company said that the smartphone has a 3D glass body, full view display, and HDR10 supported technology, which supports intensely vivid and bright colors.
The smartphone has a 4,000 mAh battery. The company claimed that Huawei Mate 10 Series is the world's fastest smartphone supporting super-fast LTE connectivity and download speed, and has world's first dual 4G SIM support and dual VoLTE connections.
"The smartphone supports 4.5V/5A low-voltage fast charging, which helps the device to charge from 1 percent to 20 percent in just 10 minutes, and from 1 percent to 58 percent in just half an hour," the statement reads.
Huawei Mate 10 is powered by Android 8.0, and has 6 GB RAM. The smartphone also has 8 MP front camera, and dual rear camera of 20 MP monochrome and 12 MP RGB. The smartphone, which is water and dust resilient, is available only in mocha gold colour, and is priced at Rs 103,000.