Nepal Airlines prepares to buy two more Airbus A320 Neo aircrafts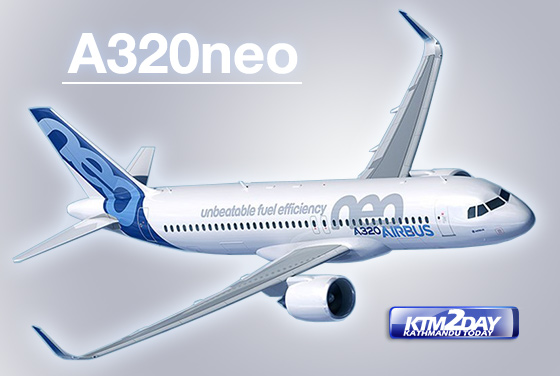 The board of Nepal Airlines Corporation (NAC) on Saturday approved in principle management's plan to procure two Airbus A320neo jets.
The decision paves the way for the national flag carrier to formally begin the procurement process to induct into its fleet the A320neo (new engine option) that features new-generation engines and fuel-saving Sharklets. The A320neo's engines reportedly save at least 15 percent on fuel.
"The board has allowed us to procure two aircraft and we have initiated work to prepare the bidding documents," said Sugat Ratna Kansakar, managing director of NAC. "It will take at least a month to prepare the documents."
The two jets are expected to cost $120 million, he said. "In terms of financing, we will approach the Employees Provident Fund," he added.
As NAC has switched to Airbus from Boeing pursuing a one-family aircraft strategy to reduce maintenance and crew training costs, NAC officials said that like the previous A330 deal, it will invite tenders from leasing companies and the manufacturer.
NAC has been working to phase out its second Boeing 757 by 2019. Currently, the carrier flies five different types of aircraft: Boeing, Airbus, Twin Otter, MA60 and Y12e. NAC purchased two Airbus A320-200 aircraft in 2015 by borrowing Rs10 billion from the Employees Provident Fund (EPF) in its first fleet expansion in 27 years.
In April last year, NAC signed the final purchase agreement for two Airbus A330-200 long-range jets from US-based AAR Corp.
The $209.6-million contract was the largest-ever jet purchase deal in Nepal's aviation history. The carrier borrowed Rs24 billion from the Citizen Investment Trust and the EPF to buy the planes.
The first of the two brand new Airbus A330 is expected to touch down at Tribhuvan International Airport on June 27, according to NAC. The second jet is scheduled to arrive in July.
The carrier has proposed procuring the long-range jets to serve destinations in North America, Japan, Australia and the UK as they have been identified as prospective markets for Nepal over the next 20 years.
NAC is preparing to launch three long-haul routes in Asia, but it has had to put its European plans on hold as Nepali carriers are still banned in the European Union. The corporation has appointed ground handling service providers at Kansai International Airport in Osaka, Japan, Incheon International Airport in Incheon, South Korea and King Khalid International Airport in Riyadh, Saudi Arabia.
As per the initial proposal, the national flag carrier plans to operate four weekly flights to Riyadh, three weekly flights to Incheon and two weekly flights to Osaka. According to NAC officials, they will be conducting flights with the new A330 jets on the existing sectors for two-three months before flying to new destinations.
During its heyday, NAC used to fly to Amsterdam, Colombo, Dhaka, Frankfurt, Karachi, London, Osaka, Shanghai and Singapore besides five Indian cities—Bangalore, Delhi, Kolkata, Mumbai and Patna. It presently connects Kathmandu with Doha, Kuala Lumpur, Hong Kong, Bangkok, Dubai and three cities in India—Delhi and Bangalore and Mumbai.