Kathmandu-Kyirong-Railway Project to cost Rs.257 billion and a timeline of over 9 years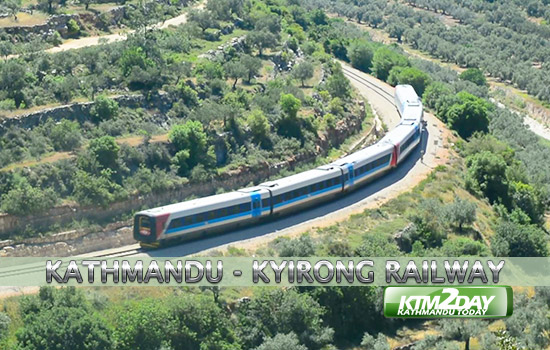 A preliminary feasibility study conducted by a Chinese company has concluded that extending a railway line from Kyirong of Tibet to Kathmandu of Nepal will cost around Rs 257 billion. Likewise, the project will take around nine years to complete, according to the report.
Senior engineer of the Department of Railways, Prakash Upadhyaya, constructing one kilometre track will cost Rs 3.55 billion. The railway will be 72.25 kilometre long.
The study conducted by China Railway First Survey and Design Institute has further concluded that 98.55 per cent section of the railway will be covered by tunnels and bridges.
The Chinese government had covered all costs of the preliminary feasibility study that lasted for around one month.
Before that, in May, the two countries had agreed to launch a feasibility study.
Another study conducted by China had earlier concluded that developing railway routes from Kyirong to Kathmandu, from Kathmandu to Pokhara and from Kathmandu to Lumbini would be possible.
Currently, the Beijing government is working to extend the Lhasa-Shigatse railway route up to Kyirong.
Meanwhile, Nepal and China are yet to discuss which modality will be adopted for the project. China has expressed its interest to construct the railway with subsidised loans. However, Nepal has been insisting that China do the project as a grant.