Nepal ranks 102nd in Economic Freedom of the World 2018 report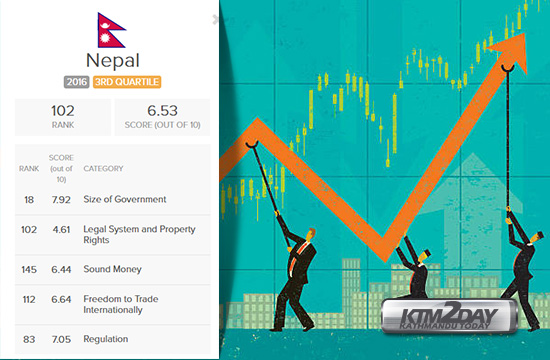 Nepal ranked 102nd out of 162 countries and territories included in the Economic Freedom of the World: 2018 Annual Report, released today by Samriddhi Foundation in conjunction with Canada's Fraser Institute. Last year, Nepal had ranked 107th.
Samriddhi Foundation is releasing the report in Nepal for the 11th consecutive year. Economic Freedom of the World measures the degree to which the policies and institutions of countries support economic freedom. This year's publication ranks 162 countries (jurisdictions).
Also read – The World Bank grants $100 million loan for Nepal's energy sector
According to research in top peer-reviewed academic journals, people living in countries with high levels of economic freedom enjoy greater prosperity, more political and civil liberties, and longer lives. For example, countries in the top quartile (25 per cent) of economic freedom such as the UK, Japan and Ireland had an average per capita income of $40,376 in 2016 compared to $5,649 for the bottom quartile countries such as Venezuela, Iran and Zimbabwe.
Life expectancy too is 79.5 years in the top quartile of countries compared to 64.4 years in the bottom quartile.
"Where people are free to pursue their own opportunities and make their own choices, they lead more prosperous, happier and healthier lives," as
per Fred McMahon, Dr Michael A Walker research chair in Economic Freedom with the Fraser Institute.
With an overall score of 6.53 (in a scale of one to 10 where a higher value indicates a higher level of economic freedom), Nepal ranked 102nd out of 162 jurisdictions in this year's index. Last year, Nepal ranked 107th out of 159 jurisdictions with a score of 6.50. The year before last year, Nepal had ranked 108th out of 157 jurisdictions with a score of 6.45.
Of the 24 sub-indicators within the five indicators studied in the report, Nepal climbed up in seven, slid below in five and maintained last year's position on 12.
Hong Kong and Singapore again top the index, continuing their streak as first and second, respectively. New Zealand, Switzerland, Ireland, the United States, Georgia, Mauritius, the United Kingdom, Australia and Canada (tied for 10th) round out the top 10.
The 10 lowest-ranked countries are Sudan, Guinea-Bissau, Angola, Central African Republic, Republic of Congo, Syria, Algeria, Argentina, Libya and last-place Venezuela. Some despotic countries such as North Korea and Cuba can't be ranked due to lack of data.
? Comparison
? Nepal's score in five key components
Size of government: Dropped to 7.9 from 8.1 in last year's report
Legal system and property rights: Climbed to 4.6 from 4.5
Access to sound money: Unchanged, on 6.4
Freedom to trade internationally: Slid to 6.6 from 6.8
Regulation of credit, labour and business: Climbed to 7.1 from 6.7