Laptop sale of various brands this festive season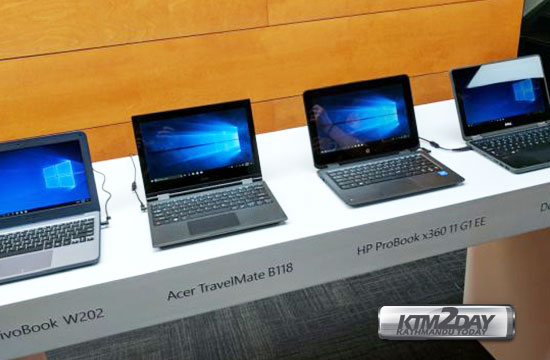 Electronic gadgets are one of the most selling items during the festive season, as different companies launch their latest models and also offer attractive schemes to entice customers. However, this festive season, the sharp rise in the dealer rate has impacted the sales of laptops.
According to domestic dealers, sales have not yet picked up in comparison to previous year's season due to the increase in the dollar rate.
Also read — Online Shopping sites to launch festive offers
Laptop brands like Lenovo, Dell, Apple and HP, among others, have been offering existing laptop models, while a few other brands have unveiled their latest models and plan to launch them soon.
Megatech, the authorised distributor of Lenovo laptops in the domestic market, launched different models of Lenovo laptops recently for the festive season.
According to Roshan Raut, techno sales at Megatech, the company launched Lenovo Ideapad 330S and 330, Yoga 530, Thinkpad X280 and Thinkpad T480 recently.
The market price for Ideapad 330S and 330 are Rs89,000 and Rs85,000 respectively; Yoga 530 is priced at Rs128,000; Thinkpad X280 is priced at Rs150,000; and Thinkpad T480 is priced at Rs135,000, he said. Lenovo Ideapad 330S and 330 comes with 128GB SSD, while Yoga 530 has SSD 512 GB.
Similarly, Thinkpad X280 has storage up to 1 TB PCIe SSD and Thinkpad T480 has storage of 256 GB PCIe M.2 SSD.
The company has been offering Lenovo laptop bags and wireless mouse on the purchase of Lenovo laptops as Dashain offer. Similarly, the company has also been providing a 20 percent discount on Lenovo accessories. Generation Next Communication, the authorised distributor of Dell and Apple laptops in Nepal, will be launching the most-awaited iPhone—XS Max—very soon after Dashain.
The company had initially planned to introduce the phone before Dashain, however, due to a few minor problems, the phone will be launched soon after Dashain, said Saroj Shrestha, consumer head of Generation Next Communication.
Meanwhile, the company has been offering discounts on existing models in Dell and Apple laptops. According to Shrestha, the company has 3476 and 3576 models in the Dell eighth generation series, 5490 and 3490 models in Dell Latitude series, and i7 gaming laptop in 7588 model and Vostro 5370.
The prices of Dell laptop starts from Rs48,000. Similarly, the company has been offering MacBook Air and MacBook Pro in Apple brand. The MacBook Air price starts from Rs135,000, while MacBook Pro starts from Rs200,000.
CAS Trading House, the authorised distributor of HP laptop in Nepal, has also been offering existing models. According to Anuj Tamrakar, senior sales executive of CAS Trading House, HP ProBook 440 G5 and HP 14 are the most selling HP model laptops in Nepal. HP ProBook 440 G5 costs Rs74,000, while HP 14 is priced at Rs69,000, in the i5 series, he said, adding the company has HP laptops in i3 series, which comes at Rs45,000.
Likewise, the company also has been offering different models with seventh and eighth generation Intel chips. HP Pavilion X360 touchscreen laptop costs Rs98,000, while the HP Elite Book 840 in i7 series costs Rs148,000, which has SSD 256GB, he said.