Kathmandu Metropolitan City gears up to install smart zebra crossings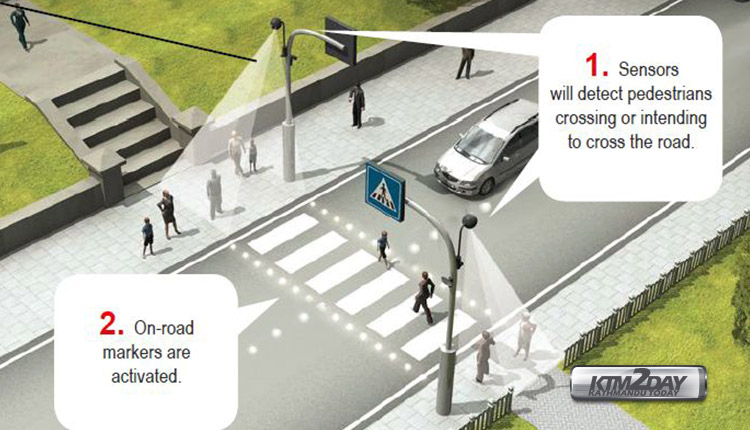 Gone are the days when traffic police personnel had to blow whistles at the top of their lungs to direct vehicles and pedestrians alike at the zebra crossings along various road sections in the city.
The Kathmandu Metropolitan City (KMC) has now geared up to install smart zebra crossings at various roads in the district. The new smart zebra crossing will stop vehicles from 10 metres away from both sides of the crossings. Appropriate technology will be employed in order to implement the said changes, shared KMC Spokesperson Ishwor Man Dangol.
According to Dangol, currently, there are around 100 zebra crossings at various road sections, which is relatively very less compared to the movement and thickness of people. At some places, have the crossings are not even clearly visible.
The new zebra crossings would be clearly visible even at night without any artificial light, shared Dangol. The plan of new smart crossings came in view of the growing movement of people in Kathmandu.
Dangol added, "The zebra crossing we are going to make will be smart ones. We are coordinating efforts to construct zebra crossings at places seeing the highest footfall of people."
The KMC, which had allocated a budget of over Rs 13 billion for the current fiscal year 2017/18, has separated over Rs 4 billion for development of physical infrastructures. The majority of this budget would be spent in expansion of the roads and for its repair, the KMC said.
Kathmandu has around 1,450 kilometres of metalled road. KMC has authority to repair roads measuring eight metres or less in breadth. To repair roads above eight metres, KMC has to coordinate with the Department of Roads.
As such, KMC has the authority to operate on a total of 950 kilometres of road.