PM inaugurates Nepal Shipping Office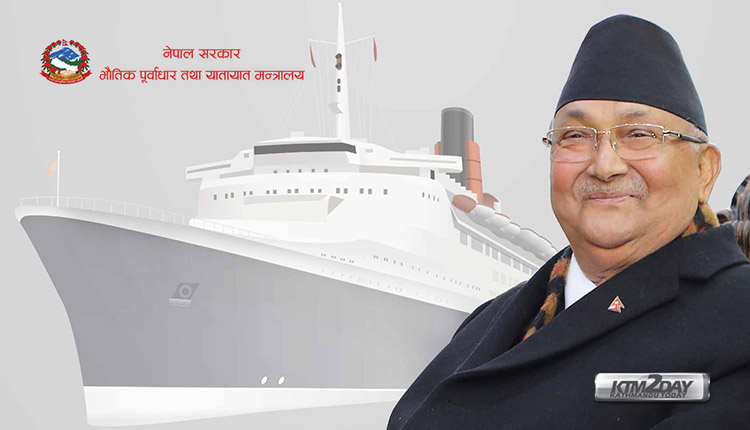 Prime Minister KP Sharma Oli has inaugurated the office of Nepal Shipping Office on Thursday. The new office based at Ekantakuna has come into operation from Thursday and this office will begin further study and exploration on developing inland waterways. The entity is established following a taskforce headed by joint secretary of the planning division of Ministry of Industry, Commerce and Supplies recommended for setting up office and begin the tasks. The cabinet has already approved a 16 member staffs for the new office that is under Ministry of Infrastructure and Transport.
Speaking after the inauguration at the programme organised by the Ministry of Physical Infrastructure and Transport, Prime Minister Oli said that the establishment of the office has opened the door for further study and exploration on developing inland waterways in the country.
Stating that Nepal was not a fully landlocked country as there was possibility of inland waterways in many rivers in the country, he expressed the belief that waterway transportation would come into operation earlier than railway service.
The Prime Minister also suggested engineers to manufacture ships as per the depth and width of rivers. Referring to the feasibility study for operation of ship conducted way back in 1970, the Prime Minister shared information that he had discussed about the possibility of operation of ship and Kathmandu-Raxaul railway service during his India visit last year.
Prime Minister Oli said that a new dimension has been added to the 'connectivity' with India, adding that we are now going to be linked with India through inland waterways and railways.
Also speaking at the function, Minster for Physical Infrastructure and Transport, Raghubir Mahaseth, said that operating a ship flying Nepal's flag would be a matter of great pride for the country.
Likewise, Secretary at the Ministry, Madhusudan Adhikari, said that the Ministry was active to begin and expand inland waterway and railway service while Joint-Secretary at the Ministry, Gopal Prasad Sigdel, said that inland waterway service would be cheaper than air and road service.
This is one of key programs Oli announced after assuming office last year exactly this week or February 15, 2018, the day Oli assumed office. Head of two-third majority government also initiated bilateral agreements with India on building inland waterways during his trip to India. The new mode of transportation which many believe is not possible as projected but government officials.
But the government officials say that they can not predict anything at the moment but this initiation comes while Government of India has also recently prepared DPR on the waterways. India says DPR for building a span of 300 km downward from Gandaki River at Triveni Nepal to India's Ganga River near Hajipur in Bihar. India's Minister for Road Transport & Highways, Shipping and Water Resources Nitin Gadkari laid foundation statone for the commencement of development work of the waterways in Gandak River which is said to have potential to move 11.6 million tons of cargo in next five years via the river.