Honor 20 Series more features and price revealed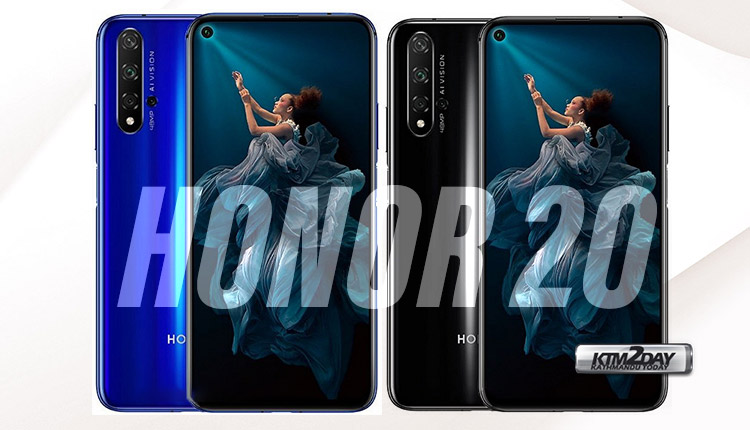 As the launch date of Honor 20 Pro and Honor 20 is nearing closer, we are now constantly bombarded by new leaks and official news about this product.
The Honor 20 Series of phones will bear significant resemblance to the P30 Series smartphones at least on the back panel. The Honor brand from Huawei represents phones with good performance but at an affordable price.
That should change with Honor 20 Pro, which promises low price but performance that can compete with much more powerful devices, such as the P30 Pro, also from Huawei.
Huawei's Honor line has helped the company to become popular and reach second spot in the number of handsets sold worldwide. The new model of the line, the Honor 20 Pro, has had some leaked information on the internet and promises four cameras similar to those found in more expensive handsets, with a look that somewhat resembles Samsung's latest smartphones.
The Honor 20 series will feature a punch hole display camera located on the far left corner of the screen along with 6.1 inch display and a fingerprint sensor located on the side panel underneath the power button.
The official international debut of the Honor 20 series of smartphones is expected on May 21 in London.
Honor 20 and Honor 20 Pro smartphones will turn out to be noticeably cheaper than their older brothers Huawei P30 and P30 Pro. According to preliminary data on their specifications, the devices are comparable to P30 series as they come with same cameras, large amounts of memory and screens. But the new picture allows us to understand where the creators still managed to save.
The latest information point out how the company saved its bucks which allowed them to lower the price of Honor 20 series phone. The Honor 20 Series phones will come with a fingerprint scanner located on the side panel underneath the power button. If the device would have come with an in-display fingerprint scanner the technology at the time would require an OLED panel which significantly increases the manufacturing cost by $30 for the components. Although not possible now, but smartphones by next year will come with in-display fingerprint scanner even in cheaper smartphones which can be integrated even in low end LCD Panels that are cheaper than OLED panels.
In general, the Honor 20 series will be a toned down version of the P30 Series smartphones which will be basically targeted to the emerging markets like India and other Asian countries.
Recently, another leak emerged possibly showing the retail prices of Honor 20 Pro and Honor 20 phones. The prices are for Chinese market hence will differ when released in other regions and markets.
The prices of Honor 20 Pro / Honor 20 are :
Honor 20
6GB of RAM + 128GB of internal storage – € 350 (~ NRs 43,880 )
8GB of RAM + 128GB of internal storage – € 390 (~ NRs 48,895 )
8GB of RAM + 256GB of internal storage – € 450 (~ NRs 56,420 )
Honor 20 Pro
8GB of RAM + 125GB of internal storage – € 480 (~ NRs 60,200 )
8GB of RAM + 256GB of internal storage – € 540 (~ NRs 67,700 )
The two phones will be identical to each other in several aspects, but will differ in the areas of system memory and internal storage and display sizes.
The official presentation of Honor 20 and Honor 20 Pro will happen on May 21st, so we will not have to wait much longer until all the news is revealed. The sales in Chinese market will take place on May 31 and soon later will arrive in Indian markets on June 11. Please stay tuned for more news on Honor 20 series phones.