Ncell to support IOE with Scholarships and Excellence Awards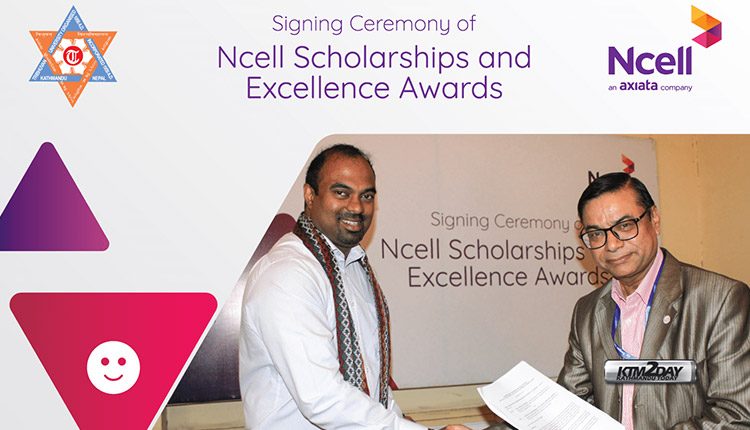 Ncell Private Limited has reached an agreement with the Institute of Engineering (IOE), Pulchowk Campus to give continuity to the coveted 'Ncell Scholarships and Excellence Awards' programme for the next 5 years, incorporating two more engineering faculties under this initiative.
This initiative under Ncell's Corporate Social Responsibility (CSR) aims at encouraging and supporting technical education with an effort to expand and diversify the professional engineering field among the youth. Ncell has agreed to provide scholarships and excellence awards worth Rs. 13 million to students under five faculties—Electrical, Electronics, Computer, Civil and Mechanical Engineering at the Pulchowk Campus for the five years (2019-2023).
Kanishka Gayan Wickrama, Chief Finance Officer (CFO) of Ncell and Prof. Ramchandra Sapkota, Dean of IOE signed the agreement on Monday (May 20) amidst a function in Pulchowk Campus. Under this initiative, Ncell will annually provide 18 scholarships and 6 excellence awards to the toppers of Electricals, Electronics, Computer, Civil and Mechanical Engineering of the campus for five years.
Ncell Scholarships aim to promote the best and brightest minds, whereas Ncell Excellence Awards aim to recognize and felicitate the academic achievers. Both scholarships and excellence awards carry amount worth Rs 100,000 each.
Sharing the excitement during the event, Kanishka Gayan Wickrama CFO of Ncell said, "In the ever changing landscape of engineering education, Ncell in collaboration with IOE aims to foster and promote talents of various engineering faculties, support deserving students and encourage academic excellence. We are pleased to further strengthen our collaboration with the prestigious Pulchowk Campus. We aim to support and collaborate with a new generation of engineers of the 21st century."
As a responsible corporate citizen Ncell under its CSR initiative had instituted Ncell Scholarship and Excellence Awards in 2014 at Pulchowk Campus, IoE for 5 years (2014-2018) to support young talents and contribute towards development of engineering skills. In the five years period, a total of 60 students have been granted with Ncell Scholarships and 20 students have received Ncell Excellence Awards. So far, Ncell has already provided scholarships and awards of worth NPR 8 million to the students of three faculties— Electrical, Electronics and Computer Engineering during the period.
"Under the Ncell Scholarships and Excellence Awards, we supported best and deserving students promoting meritocracy. We are very much thankful to Ncell for giving continuity for this programme for another five years," said Dean Prof. Sapkota. "Two more faculties—Civil and Mechanical—have also been incorporated for this noble cause with Ncell's generous support, which will acknowledge and encourage more talents."
The distribution of the scholarships and excellence awards will be amongst the toppers and scholars of the five engineering faculties of the Campus based on annual scored obtained. According to the agreement, the scholarships will be awarded to the topper student of 1st year, 2nd year and 3rd year of each faculty. Similarly, one female topper among all female student of the five faculties will receive the scholarship.
As for the excellence awards, based on cumulative sore of 1st year, 2nd year, 3rd year and 4th year, toppers of each faculty and additional one female topper among all female student of the five engineering streams will be honoured with Ncell Excellence Awards.
Ncell has been keeping education sector high in its CSR priority list and carrying out various programmes since 2010 for the development of this sector. Under this, 14 girls of remote districts of Karnali and other rural districts, who got good grades among female students in SLC, but faced financial difficulties to continue further education, have received Ncell Girls Scholarships too.
Likewise, Ncell has established 16 digital libraries to support digital education, and supported 44 community schools to equip them with educational infrastructures such as classrooms, drinking water, toilets and sports, among others. Together, Ncell has invested over NPR 100 million in the education sector which benefitted over 25,000 students in rural Nepal.
Apart from these, Ncell, under its CSR initiatives, has also supported young talents to unleash their digital potential, contributed to promote Nepali literature, art, music, sports such as football and cricket, among others. The company has also contributed in health sector and environmental conservation through different CSR projects.