Samsung Galaxy A70S to come with 64 MP camera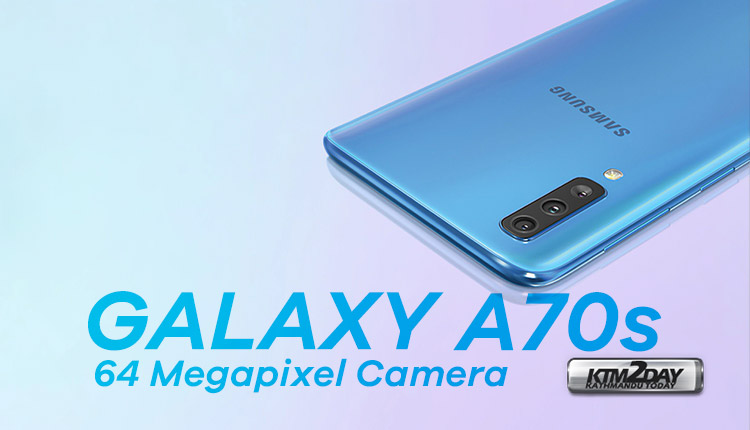 Samsung is working on two photo sensors that are worth paying attention to. Apparently, the Samsung Galaxy A70S should be the first to use one of these sensors that has 64MP.
It was even said that this would be the sensor that would be introduced in the Samsung Galaxy Note 10, however, the South Korean company has denied the information.
Recently, there have been many mobile phones equipped with ultra high pixel sensors in the market. In the process, two 48-megapixel sensors, Sony IMX 586 and Samsung GM1, have taken the limelight. However, at the beginning of this month, Samsung announced a mobile phone camera sensor ISOCELL Bright GW1 with a pixel count of 64 million pixels. It is expected that this will become an important element of the future "pixel war" of mobile phones.
According to South Korean media ET News, Samsung will launch the Galaxy A70s in the second half of this year, and it will be equipped with a 64-megapixel GW1, which will be the first mobile phone equipped with a 64-megapixel lens.
It is known that the Samsung GW1 has a 0.8μm unit pixel size, which can take 64 million pixels in a well-lit scene, and a 16-megapixel but brighter picture in a darker scene.
According to the plan, Samsung Galaxy Note10 will also be released in the second half of this year, but ET News said that Note10 will not carry this 64-megapixel GW1, because Samsung's latest strategy shows that it wants to create spark in low-end mobile phones. In order to enhance the competitiveness of products, the company has plans to put new technologies first in the affordable smartphones for the masses.
Samsung Electronics is taking this approach to deal with Chinese Smartphone manufacturers such as Huawei, OPPO, and Xiaomi taking over Smartphone market by selling high-end Smartphones at an affordable price. Applying 64MP sensor to Galaxy A model is also part of Samsung Electronics' plan.
The news about 64 MP sensor has first appeared on the web which has also brought forward the unheard model Samsung Galaxy A70s for the first time.
Samsung Galaxy A70S will be released in the second half of this year, but the exact launch date is not yet known.
Samsung Galaxy A70S should be an updated version of the model Galaxy A70. By the way, the smartphone this week received the first software update , which improved the camera and fingerprint sensor.