Redmi K20 revealed in official banners with specs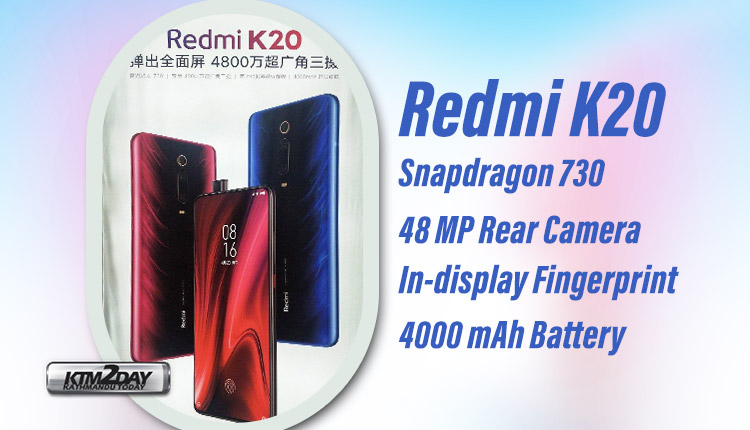 We have already seen the flagship smartphone Redmi K20 many times – this morning the device lit up on a couple of new pictures . But now, one can say, the most organic graphic leak has appeared on the Web: the front and rear panels of the smartphone are displayed on an advertising banner.
The advertising banner are official sources so its authenticity cannot be questioned. The banner also carries the specification of the device partly displaying the processor, camera features, fingerprint sensor and battery.
The Redmi K20 will be a basic or a toned down version of Redmi K20 Pro and comes with lighter specification than its bigger brother. First of all as mentioned it will be the most affordable version which comes with a new Snapdragon 730 SoC.
Redmi has been highlighting this device from the start as a 48 MP camera phone. Hence, the rear panel will boast a triple camera setup with the main sensor being a 48 megapixel camera .
As can be seen in the poster above, the fingerprint scanner is embedded on the front screen. The K20 comes with a seventh generation of in-display fingerprint scanner with enhanced speed and security.
Additionally, the battery specification is also listed as 4000 mAh with no further details.
The Redmi K20 was earlier speculated to come with a Snapdragon 675 SoC, but in the final hours the company has opted for a most recently launched Snapdragon 730 mobile platform for a more powerful peformance in gaming, camera, voice and security. It's speculated to cost around $375
The Redmi K20 Pro on the other hand comes equipped with a more powerful Snapdragon 855 Soc that offers upto 45% more performance than its predecessor hence will turn out be more expensive.