Samsung Galaxy Note 10+ leaks in live pictures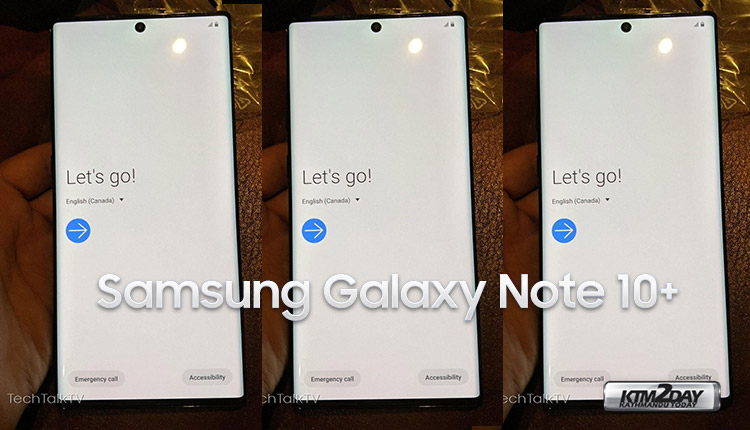 YouTube channel called TechTalkTV has published the first real live photos of the new Samsung Galaxy Note series smartphone. According to the source, this is the premium model in the series, which was previously known as the Samsung Galaxy Note 10 Pro.
However, judging by the splash screen during boot on the smartphone, it will be called differently – Samsung Galaxy Note 10+. Photos were received from an Instagram user named Aaron Guan.
As for the design, the single front camera was confirmed in the punch-hole in the center of the screen. It is expected that the diagonal of the Galaxy Note 10 Pro or Galaxy Note 10+ will be 6.75 inches, and the bezels will be quite thin.
Here is the first look at the Samsung Galaxy Note 10+ It'll be called the Galaxy Note 10+ and not the Note 10 Pro as previous rumors have suggested. https://t.co/YBqM4qZ6i3 pic.twitter.com/WwEClducEk

— TechTalkTV (@Mr_TechTalkTV) June 28, 2019

You can also notice the lack of a cutout for the speaker, which confirms the rumor about the Sound on Display technology .In order to get sound on display to work, the screen uses a vibration technology to carry the sound to your ear. Samsung brought the feature to its Galaxy M40 earlier this year, but according to SamMobile, it was roundly criticized by users who said that it didn't deliver the kind of volume and sound quality you'd expect in an earpiece.
On the back panel you can see the quad camera setup in a new design from the company.
According to earlier leaks, the announcement of the Samsung Galaxy Note 10 and Galaxy Note 10 Pro could take place on August 7 at the Barclays Center in New York.