Qualcomm Snapgragon 215 announced for budget smartphones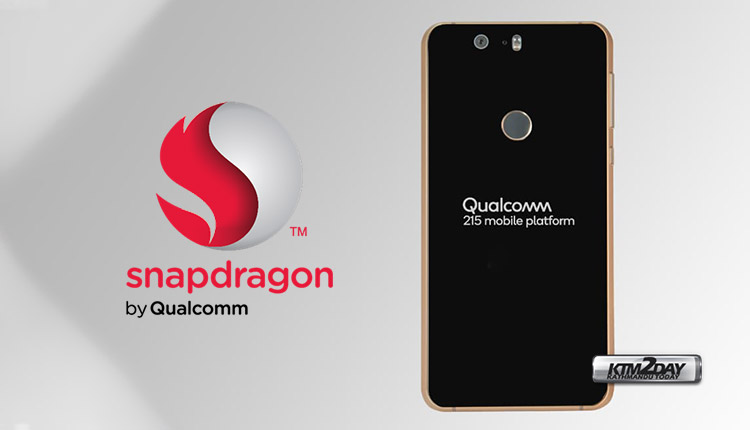 Today Qualcomm announced the launch of its new 200 Series product, the Qualcomm® 215 mobile platform. The platform is designed to deliver a leading mobile experience for entry-level budget smartphone users seeking reliable, long-lasting performance.
Kedar Kondap, Qualcomm's vice president of product management, said: "The Qualcomm 215 mobile platform integrates 64-bit CPU and dual ISP. Its launch is an important milestone in the development of the entire mobile industry. We are bringing higher standards to massive entry-level handsets, which lets the Qualcomm Series 2 to support an unprecedented experience."
Performance and battery life
With four ARM Cortex-A53 cores, the Qualcomm 215 delivers up to 50% better CPU performance than previous generations. Supporting 64-bit CPUs for the first time in the 2 Series, this not only marks a significant performance boost, but also provides better endurance performance by supporting current 64-bit applications. For longer-lasting performance, the Qualcomm 215 can support up to 5 days of music playback time by integrating Qualcomm® HexagonTM DSPs; in addition the Qualcomm® AdrenoTM 308 GPU as a display and video processing engine can support more than 10 hours of video playback time . Qualcomm 215 also supports Qualcomm® Quick ChargeTM technology, enabling users to charge up to 75% faster than traditional charging, resulting in lower power consumption and better heat dissipation, and reduced charging time without sacrificing performance .
Entertainment
The Qualcomm 215 integrates dual ISPs in the 2 Series for the first time, which means it can support dual cameras. With the support of our third-party ecosystem, optical zoom and depth sensing can be achieved with a dual camera, which enhances the overall richness of the photo. It also supports shooting up to 13 megapixel photos. In addition, the Qualcomm 215 supports HD+ resolution display in the 2 Series for the first time. It also supports a wider aspect ratio of the phone screen, allowing users to browse more content, view more images, and get a better all-round viewing experience. Thanks to the Adreno 308 GPU, the Qualcomm 215 delivers up to 28% better gaming performance than its predecessor, bringing smooth graphics to casual games.
Connection
To enable users to enjoy outstanding cellular connectivity, whether at home or outdoors, the Qualcomm 215 integrates the Qualcomm® OpteronTM X5 modem to enable faster data rates and downloads up to 150Mbps by supporting LTE Cat 4 and carrier aggregation rate. The Qualcomm 215 is the first platform in the 2 Series to support EVS voice calls ("Ultra HD Voice Call") and dual-card dual VoLTE. Users can freely select multiple SIM cards and simultaneously obtain high-quality 4G LTE voice and data transmission. It also allows users to switch between work and private numbers; not only that, but users can also optimize the cost of cellular connections by choosing different package plans.
The features of the Qualcomm 215 mobile platform in the 2 Series include:
64-bit CPU

Dual ISP

Support 13 million pixel camera

Support full HD (1080p) video capture

Support HD+ resolution display

Support for Hexagon DSP for audio and sensor processing

Support dual card dual VoLTE

EVS voice call

Wi-Fi 802.11ac

Android-based NFC payment
Commercial handsets equipped with Qualcomm 215 are expected to be available in the second half of 2019.