Shree Airlines adds Q400 Turbo Prop into its fleet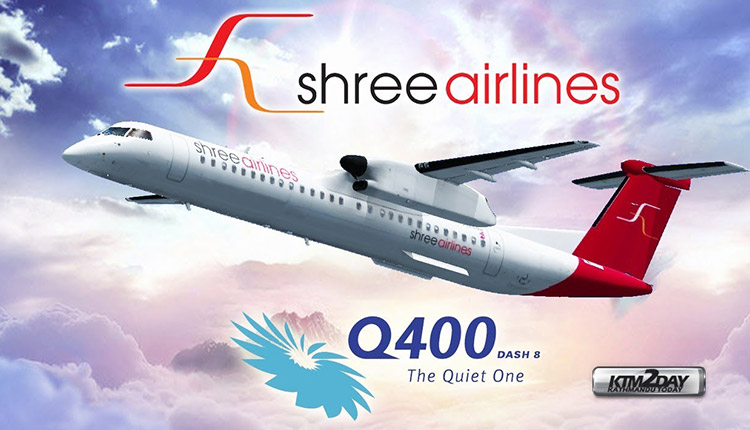 Shree Airlines has added a new aircraft to its fleet manufactured by Canadian company Bombardier. The new Q400 turboprop aircraft landed in Tribhuwan International Airport today.
The Q400 Turbo-Prop engine aircraft is first of its kind to be imported in the country and not flown by any other airliners till date.
The company had been earlier providing service with four of it's Turbo-Jet aircraft also from Bombardier in the domestic sector.
The Bombardier Dash 8 Q400 is first of the two aircraft that the company has ordered from the Canadian company. Shree had earlier announced that it will be investing Rs 1 billion to purchase two aircrafts.
Shree Airlines currently has two CRJ-200ER and another two CRJ700 aircraft in its fleet, which can take upto 50 and 70 passengers respectively. The newly added Bombardier Dash 8 Q400 can take up-to 78 passengers per flight.
Shree has imported the new aircraft in order to facilitate passengers in the Pokhara, Simara and Janakpur sector.
The 80 seater Q400 aircraft consumes less fuel than Shree's existing Turbo-Jet aircraft but is less fuel efficient when compared to ATR 72-500. Leading Airline companies like Buddha Air and Yeti Airlines currently have 7 and 5 aircrafts from this ATR series which is considered highly fuel efficient and best suited for smaller markets like Nepal.
Shree Airlines has recently obtained permission to fly to India and Bangladesh. The Ministry of Culture, Tourism and Civil Aviation (MoCTCA) has allowed Shree to operate flights to Dhaka of Bangladesh and four sectors in India — Delhi, Kolkata, Bangalore and Ahmedabad.
WIth the arrival of new TurboProp Q400 aircraft Shree has expanded its fleet to a total of 5 aircrafts. The new aircraft will also help the company to expand its business in the domestic and international sector in the days ahead.