MIUI 11 – Most Notable Features and update schedule for all Xiaomi models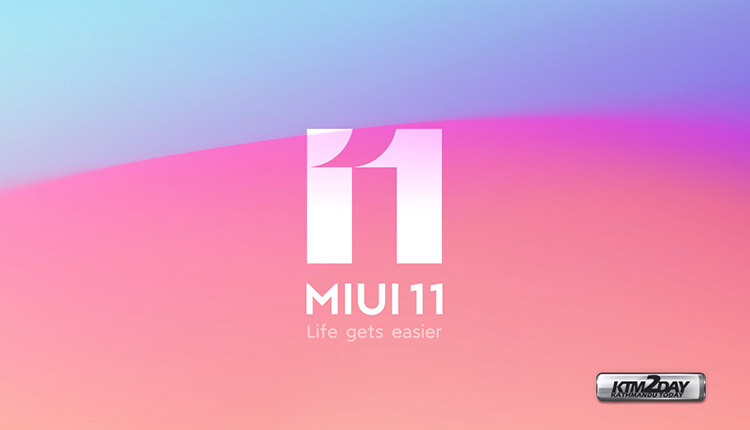 MIUI 11 is the latest version of the user interface (UI) and is now being rolled out to Xiaomi smartphones in phases. Here we will quickly discuss all the notable new features of the MIUI 11 that brings new improvements to the device and the upgrade timeline for different models of Xiaomi smartphones.
Inspired by Android 10, this is the skin or mask that personalizes the entire operating system, as well as adding powerful productivity, battery saving and of course customization tools.
1. New icons with the new UI
The biggest changes is the look of the whole new UI. MIUI 11 brings several differences and visual improvements over the previous version (MIUI 10), the newly designed icons are now more defined in color and shape, with all elements now reflect in rounded corners .
The more unified and clean overall look meets current design trends. Additionally, many of the system apps have considerable differences in their icons and faster opening animations.
As soon as the smartphone upgrades to the MIUI 11 the sensation of higher speed will be noticeable. We also have a new font and a new design for the dialer (phone) as well as the ability to adapt the more dynamic and adaptable font size.
In short, we have a more consistent and unified interface at all levels.
2. Always-On or Ambient Display Screen

The lock screen now displays more information, with more customizable elements and many more animations. For those who like to always have the time, calendar and / or other notifications on the always-on screen , MIUI 11 has great news!
Especially for AMOLED displays, this mode does not consume much energy and with the new wide range of styles to choose from, it will be hard to resist. We can even set a custom message to be displayed on the lock screen.
The focus is on personalization, both at the functional, sound and visual level. MIUI 11 also tries a different approach to notify users with on-screen flashing animations on devices which lack a notification led.
3. Dark Mode or Global Dark Mode on MIUI 11
Being based on Android 10, MIUI 11 supports the use of dark mode throughout the platform. Great for battery saving on AMOLED displays, as well as decreasing visual fatigue , this new feature can now be automatically scheduled beforehand.
Xiaomi has added a few more functions in Dark Mode as the global dark mode application option. So even applications that don't support it will now appear in a darker theme to provide a coherent experience.
Dark mode is a top priority for manufacturers and application developers. More and more popular apps are supporting this mode and MIUI 11 will find an interface already fully prepared for Dark Mode.
4. Dynamic Sound Effects
In addition to dynamic fonts, we also have new dynamic sounds . These are sound alerts and effects for nature-inspired notifications, alarms, and ringing tones that can vary automatically throughout the day.
For example, for the alarm we can let MIUI 11 choose a weather-based sound effect. So if it is raining we will have an evocative sound effect of rain, or we can choose different sounds for each day of the week.
The MIUI 11 can also automatically detect if an incoming call is made by a business service such as UBER and adapt the ringing tone.
5. Ultra Battery Saver
The MIUI 11 adds new controls to the battery saver mode . With Ultra mode we have possibilities such as putting the phone in airplane mode and several options that can be set automatically based on battery percentage.
We also have the possibility to schedule a smartphone shutdown in addition to the automatic start. This process can be repeated every day at any time you want, something that can also help you save battery power.
Ultra mode puts the phone to a minimum consumption, reducing functions to the essentials to maximize battery life. Users can also choose which apps to keep or close if the battery levels are critical.
6. Gaming Toolbox 2.0
Xiaomi has also devoted a great deal of attention to gaming and smartphone enthusiasts . For specific models like BlackShark we have JoyUI which promises to optimize hardware features to provide the best gaming experience.
We have a Game Center that aggregates the various game apps installed on the smartphone, as well as giving us other metrics and features. This game mode will also come to models elected to receive MIUI 11, albeit with another nomenclature.
There is even more news to be prepared by Xiaomi in order to simplify the use of Xiaomi smartphones. The focus is on standardization, speed, autonomy and productivity.
7. Mi Share, Doc Viewer, Mi Work and Mi Life
Get more from your Xiaomi phone for work situations and productivity. This is one of MIUI 11's priorities and is reflected in several proprietary applications like Mi Share , Mi Work , and Mi Life , both renewed and enhanced.
The Mi Share is an integrated function, comparable to Apple's Air Drop. It uses Bluetooth and the internet connection to send files quickly and easily between Xiaomi, Oppo, Vivo or Realme smartphones.
We also have a new document viewer, Doc Viewer, with Mi Work helping to transfer files between smartphones and computers, or between smartphones. Mi Work also has a new calculator and to-do list.
The Mi Life can enhance the daily activity. Here we can access various metrics, from the distances traveled on the step counter to the calories burned. We can still see how much time we spend on the smartphone and time spent in using various apps installed.
We also have the Women's Health calendar. Then we have the quick answers or Quick Replies allowing to respond to WhatsApp messages or answer calls while we continue to see a video, for example.
Xiaomi has started rolling out

MIUI 11 Global

update
The Global Version of MIUI 11 officially began shipping on October 22, 2019. According to the brand itself, the distribution will take place in three / four phases, with the first already in place by October 31 and covering 13 smartphones.
Phase 1 – October 22 – 31
Mi 9 SE
Redmi K20 / Mi 9T
Redmi Y3
Redmi Note 7 / 7S / 7 Pro
Redmi 7
Mi 8 / Mi 8 Pro / Mi 8 Lite
Mi MIX 3 / MIX 2S
POCO F1 / Pocophone F1
2nd Phase – November 4-12
Mi 9 / Mi 9 Lite
Redmi K20 Pro / Mi 9T Pro
Mi MIX / Mi MIX 2
Mi 6
Mi Note 3 / Note 2
Mi Max 2 / Mi Play
Redmi 6 Pro / Redmi 6 / Redmi 6A
Redmi Note 5 Pro / Note 5
Redmi S2 / Y2
Redmi Note 5A Prime / Y1
Redmi 5 Plus / Redmi 5 / Redmi 5A
Redmi Note 4x / Redmi 4x
3rd Phase – 13th – 29th November
Redmi Note 6 Pro
Redmi 7A
Redmi 8 / Redmi 8A / Redmi Note 8
Phase 4 – December 18th to 26th