4th Bangladesh Expo 2018 kicks off in Kathmandu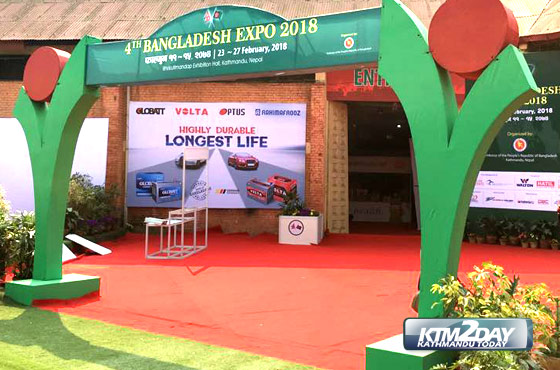 The 4th edition of Bangladesh Expo kicked off at Bhrikutimandap, Kathmandu on Friday. The five-day single-country expo showcases various products, services and arts from Bangladesh. There are also a handful of stalls representing Nepali products.
Commerce Secretary Chandra Kumar Ghimire said that Nepal and Bangladesh have collaborated as close trading partners for more than four decades. "These type of events will further help to identify areas of trade and investment that traders of both countries could collaborate in the future," he said. "Both countries should harness business opportunities and collaborate to increase investment in trade and many other sectors."
Wide range of products like furniture, jute products, garments, sarees, ladies dress, plastic products, building and construction materials, cosmetics, leather products, ceramics, textiles, footwear, electronics and appliances are on display at the expo.
The expo has stalls from famous brands like Walton, Hatil , Runner Auto and Pran Foods showcasing their already popular products known in the Nepali market.
Additionally, other products produced in Bangladesh such as handicrafts, motorcycles, generators, machineries, processed food, consumer products, batteries, bathroom fittings and jewellery are also being showcased.
It will also host art exhibition of 23 renowned artists from Bangladesh intended to highlight varied cultural traditions of Bangladesh.
On the occasion, chief guest of the event Iqbal Sobhan Chowdhury, media advisor to Prime Minister of Bangladesh Sheikh Hasina said that Nepal and Bangladesh should seek common ground on many sectors as investment and trading partners. "Both countries have yet to harness the full trade potential of each other. These kind of events could be an important step in that direction."
The inaugural programme was also attended by Ambassador of Bangladesh to Nepal Mashfee Binte Shams. The embassy said that the expo is expected to create a platform for exchange of information and ideas and provide an opportunity for entrepreneurs of the two countries to explore business-to-business linkages for harnessing the available synergies in the areas of trade and business for mutual benefit.