5 star hotels expect brisk business during Christmas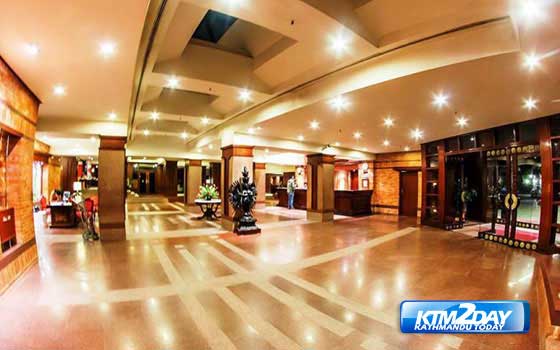 Five star hotels in Kathmandu Valley have launched various packages for Christmas and New Year with an expectation to recover from the losses incurred following the April earthquake and the ongoing unofficial Indian embargo.
Although overall business has heavily suffered for the past few months due to the low arrival of tourists, most hotels claim that they have received substantial bookings for parties and functions, adding that airline ticket sales have also been encouraging for their holiday packages.
Soaltee Crowne Plaza has lined up a wide range of menus and will offter special hampers for the holiday season. During Christmas eve, the hotel will serve a special buffet priced at Rs3,000 plus tax per person at China Garden and their Indian restaurant, Kakori, on Thursday.
On Christmas Day, a special X-Mas buffet lunch with turkey meat will be offered at Soaltee's Garden Terrace. The hotel also offers "Soaltee Crowne Plaza Hamper" and "Soaltee Crowne Plaza Deluxe Hamper", priced at Rs3,900 and Rs9,200 respectively at Sweetz (Pastry Shop), where customers can send seasonal greetings to their near and dear ones.
Anupama Maharjan, assistant manager of marketing and public relations at the hotel, said special highlights of the menu include roasted whole turkey with bread stuffing and glazed chestnuts, spit-roasted herb duck, tom turkey with scalloped mushroom, honey glazed ham and Christmas roast duck with red wine sage gravy.
Another five star hotel, Hyatt Regency Kathmandu, has announced Christmas Eve dinner set, priced at Rs5,499 per person at its Rox restaurant. While Christmas Eve dinner buffet at The Café is available at Rs3,499, Christmas day brunch at The Café is priced at Rs2,999. Hyatt also offers New Year packages that includes dinner set, buffet dinner for the eve and brunch package for New Years day.
"We are celebrating Christmas and New Year to give options to our guests to celebrate the festive season but we cannot exactly be sure about the numbers. We are hopeful that we will be able to do some good business during this period like previous years," Annal Kumar Pradhan, public relations executive at Hyatt said.
Hotel Annapurna's Christmas package includes variety of Indian dishes for dinner and lunch at Ghar-e-Kebab. Christmas lunch and dinner packages are priced at Rs2,700 per person each.
Suarpana Shahi, assistant marketing manager at the hotel, said that customers can spend a warm eve or the Christmas day itself with special meals at The Coffee Shop at Rs3,000 per person. "Although the current scenario has been hampering daily life, we are expecting to see our loyal guests who have been celebrating Christmas every year with us," she said. She said that the hotel was expecting more local customers compared to last year.
Hotel Yak and Yeti at Durbarmarg is offering a dinner package on Christmas eve at Rs2,500 and Christmas Day brunch at Rs2,000. "Overall business is down by around 30 percent since last month but we are expecting good business for Christmas and New Year," said Surendra Thakuri, director of sales and marketing at the hotel.