CAN Infotech 2022 exhibition entry fee set at Rs 1, starting this Wednesday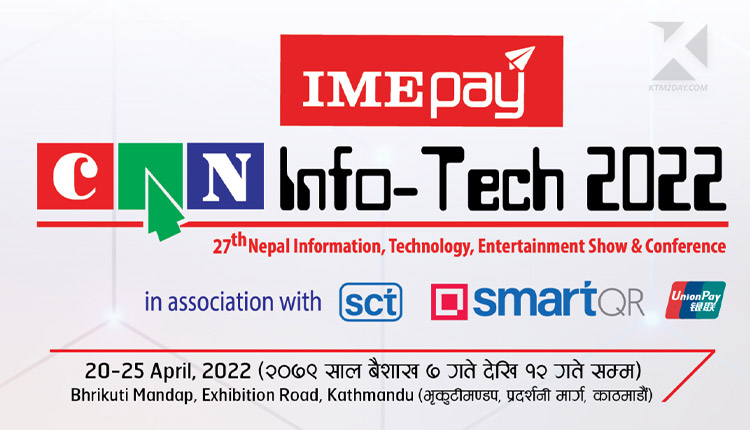 To be hosted at Bhrikuti Mandap in Kathmandu from April 20 to 25(Baisakh 7-12), the IME Pay Can Infotech-2022 is in its last stages of preparation.
The IME Group's digital wallet IME Pay is the primary sponsor of the six-day expo.
In the past, the exhibition was organized in all the states, but this time it will be held only in Kathmandu.
Due to the fact that it could not be organized in the previous years, this time the concerned stakeholders have shown enthusiasm towards the exhibition.
The CAN Federation expects the project to provide relief and assistance to all IT and communication technology entrepreneurs and stakeholders affected by COVID-19.
The exhibition will be attended by CAN member organizations as well as various national and international information and communication technology related companies and products.
The Fintech section will include services and related products provided by banks and financial and related institutions in Nepal using information and communication technology(ICT) .
In the Startup and Innovation section, 26 startup and innovation related individuals or organizations will showcase their new products and ideas.
An alliance has been formed with the Kathmandu-based Nepal Academy of Science and Technology (NAST).
This year, as part of CAN's objective to promote fresh and innovative ideas in IT, it has given special attention to startups and innovations,
Branding, finance, startup and innovation, ICT accessories and product launching and e-governance will be the emphasis of Can Infotech 2022.
This year's CAN Infotech is expected to draw a larger audience than the last one, which was seen by 3.5 million people.
In accordance with the organisers, this year's Infotech event will feature paperless and cashless entry tickets.
The entrance fee is only Rs 1 for visitors  and the admission ticket will be managed by IME Pay.