CEDB Hydropwer IPO opens for the general public from today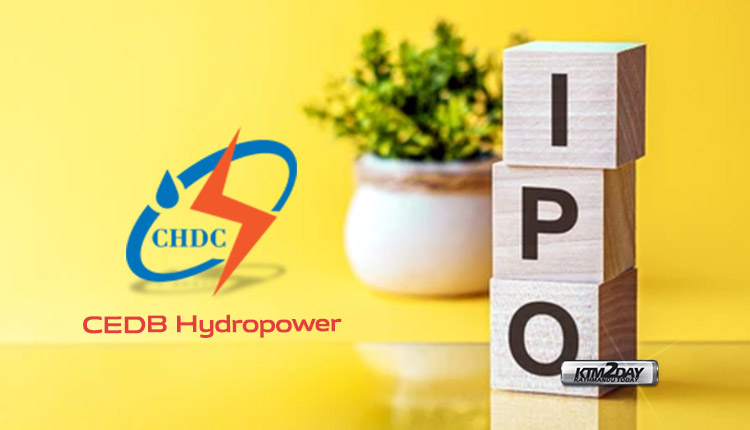 CEDB Hydropower Development Company (CHDC) will open initial public offering (IPO) sale of securities from Friday (tomorrow). The company will issue 2,518,230 ordinary shares at a face value of Rs 100 per share, equivalent to Rs 251.82 million.
The company is about to issue an IPO worth Rs 251.823 million, which is 30 percent of the issued capital of Rs 839.41 million. Out of the total issue, 2 percent or 50 thousand 365 shares will be allotted to the employees and 5 percent or 125 thousand 911 shares will be allocated to the collective investment fund and the remaining 23 lakh 41 thousand 954 shares will be opened for sale to the general public.
The company has appointed Sunrise Capital Limited as the issue and sales manager for the IPO sale. The public will be able to apply for the IPO as soon as possible by Baisakh 21 and if it is not fully sold within that period, it will be extende till Baisakh 31.
The general public can apply from C-ASBA member banks and financial institutions approved by the Nepal Securities Board as well as from Meroshare website.
In the rating given by the company for IPO issuance, Care Rating Nepal has given the company 'Care NP Double B IS Rating'. This indicates an average risk in the company's ability to bear responsibility.
The company has four hydropower projects under construction and three projects in operation. The company has two hydropower projects in Lamjung district with 4.40 MW  Radhi Small Hydropower Project and  Syange Hydropower Project of 183 KW.
Established in 2009, CEDB Hydropower Limited has earned Rs 13.05 per share and net assets per share of Rs 138.79 in the current fiscal year. The company had distributed 10.54 percent cash dividend in FY 2075/07 and 7.37 percent cash dividend in FY 2076/07. Similarly, it has also projected to pay dividend in the coming fiscal year.
After the sale of ordinary shares, the share ratio of the founder and the general public will be 70:30. At present, the paid up capital of this company is 587.59 million. After the sale of ordinary shares, the company's paid up capital will be raised to Rs. 839.41 million.