CG launches Smart Android TV certified by Google in Nepali market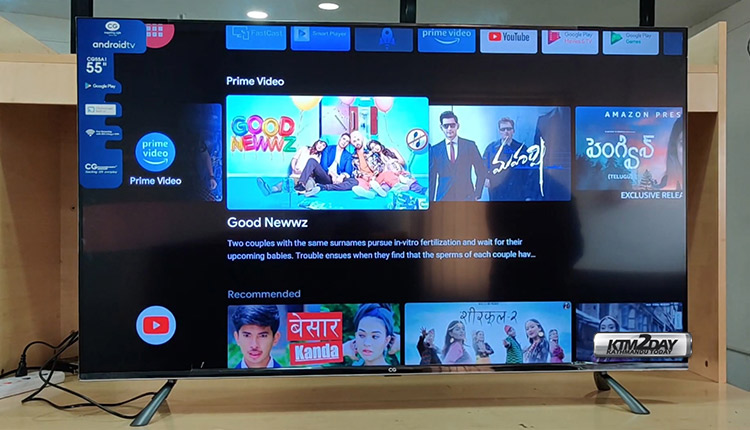 Electronics brand CG has recently introduced Android TV in the Nepali market. For the first time in Nepal, CG has brought Android TV under its Nepali brand, which is certified by Google .
Google Android TV is a special version of the smart television developed by Google which runs on Android operating system. Serving as a replacement for Google TV, it features a user interface designed around content discovery and voice search, surfacing content aggregated from various media apps and services, and integration with other recent Google technologies such as Assistant, Cast, and Knowledge Graph.
The newly CG Android TV is tailor-made for Nepali consumers and is offered is several different sizes so as to give customers options in choosing the right TV in various price range. The TV is available from sizes 32 inches to 75 inches. The smart TV run on Google certified Android TV operating system based on Android 9.0 Pie.
A voice controlled remote is also provided along with this TV. With the help of this remote one can speak and type, control volume, turn off TV and several other features.
Google Assistant
One of the key features of this TV is Google Assistant which you can control the TV by speaking, search for information on the internet, know the weather forecast, find a restaurant nearby, cinema hall, petrol station, bike repair center, find a new place, etc.
Chromecast
Using Chromecast on this Google Android TV, you will be able to watch your favorite videos and games from your mobile on the TV screen in high quality. Similarly, through Google Play Store, you can download and use new apps and games.
This TV has many features like Google Play Movies and TV, Google Playstore. Depending on the model this Google Android TV is equipped with 1.5 GB to 2 GB RAM and 8GB to 16 GB internal storage. Furthermore, it also comes with Dolby digital sound which is a multi-channel audio codec developed by Dolby Labs that provides a cinematic surround sound experience.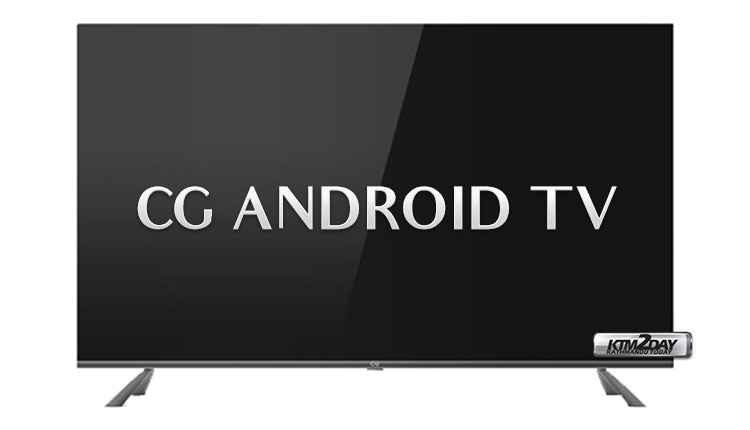 CG Smart Android TV Price in Nepal
32 inch 2K Smart Android TV – B Series
Key Features
32 inch 
Android Pie 9.0 (Google Certified)
Google Assistant
Chrome cast Built In
Google Play Music, Google Play Movies, Google Play Games
Bluetooth
Dolby Digital Sound
Voice Control and Search
1.5 GB DDR + 8 GB eMMC
Voice Control and Search
Quad Core Processor
3 Years Warranty*
Price – NPR 25,590
43 inch 2K Smart Android TV – B Series
Key Features
43 inch 
Android Pie 9.0 (Google Certified)
Google Assistant
Chrome cast Built In
Google Play Music, Google Play Movies, Google Play Games
Bluetooth
Dolby Digital Sound
Voice Control and Search
1.5 GB DDR + 8 GB eMMC
Voice Control and Search
Quad Core Processor
3 Years Warranty*
NPR 45,290
50 inch 4K UHD Android TV – A Series
Key Features
50 inch
Android Pie 9.0 (Google Certified)
Google Assistant
Chromecast Built In
Google Play Music, Google Play Movies, Google Play Games
Bluetooth
Dolby Digital Sound
20W Stereo Speaker (10W *2)
2 GB RAM, 16 GB Internal Storage
Voice Control and Search
Google Play Store
4K (UHD) Resolution, A+ Panel
Quad Core Processor​
3 Years Warranty*
NPR 60,090
55 inch 4K UHD Android TV – A Series
Key Features
55 inch
Android Pie 9.0 (Google Certified)
Google Assistant
Chromecast Built In
Google Play Music, Google Play Movies, Google Play Games
Bluetooth
Dolby Digital Sound
20W Stereo Speaker (10W *2)
2 GB RAM, 16 GB Internal Storage
Voice Control and Search
Google Play Store
4K (UHD) Resolution, A+ Panel
Quad Core Processor​
3 Years Warranty*
NPR 68,890
65 inch 4K UHD Android TV – A Series
Key Features
65 inch
Android Pie 9.0 (Google Certified)
Google Assistant
Chromecast Built In
Google Play Music, Google Play Movies, Google Play Games
Bluetooth
Dolby Digital Sound
20W Stereo Speaker (10W *2)
2 GB RAM, 16 GB Internal Storage
Voice Control and Search
Google Play Store
4K (UHD) Resolution, A+ Panel
Quad Core Processor​
1 Year Warranty
NPR 108,590
75 inch 4K UHD Android TV – A Series
Key Features
75 inch
Android Pie 9.0 (Google Certified)
Google Assistant
Chromecast Built In
Google Play Music, Google Play Movies, Google Play Games
Bluetooth
Dolby Digital Sound
20W Stereo Speaker (15W *2)
2 GB RAM, 16 GB Internal Storage
Voice Control and Search
Google Play Store
4K (UHD) Resolution, A+ Panel
Quad Core Processor​
1 Year Warranty
NPR 250,190