Coca Cola now available in 175 ml retro Glass Bottle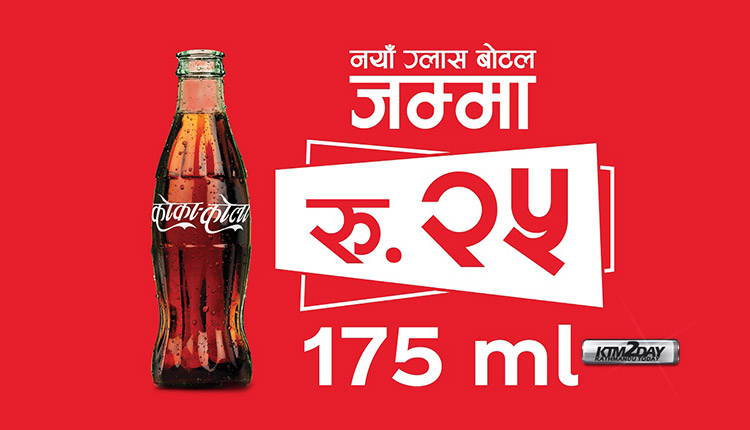 Coca-Cola has brought 175 ml glass bottle to Nepali market from Thursday. It is available at an affordable price of just Rs 25, providing a fun drinking experience to the consumers. In addition, the new glass bottle is specially designed for Nepali consumers.
The new Coca-Cola logo, printed in Nepali on the bottle, reflects the brand's strong commitment to building a deeper relationship with its local customers.
Speaking at the launch of the new bottle, Adarsh ​​Awasthi, Country Director, Coca-Cola, Nepal, said, "We are thrilled to have another pack of Coca-Cola, Sprite and Fanta, which offer great experience at affordable prices."
With the launch of the new bottle, the company's mission is not only to provide consumers with a choice of size for their favorite beverage, but also to provide sustainable packaging. We hope consumers enjoy their favorite beverage to the fullest. "
Similarly, Managing Director of Bottlers Nepal Limited, Mr. Pradip Pandey said, "Apart from affordable prices, we are committed to provide our customers' favorite beverages. A new RGB bottle of 175 ml at Rs 25 is now available in grocery stores across Kathmandu."
The RGB (Returnable Glass Bottle) available in the Coca-Cola Beverage category is the smallest bottle in Nepal. Coca-Cola has been providing new beverage bottles and packages to suit the needs of Nepali consumers.
RGB bottles are reusable bottles and they are environmentally friendly. Also, the taste of Coca-Cola is always fresh due to the glass packaging. The new 175 ml RGB bottle is available in Coca-Cola, Sprite and Fanta and is available at grocery stores in Kathmandu, Lalitpur and Bhaktapur.