Domestic Airliners revise airfare after increase in fuel price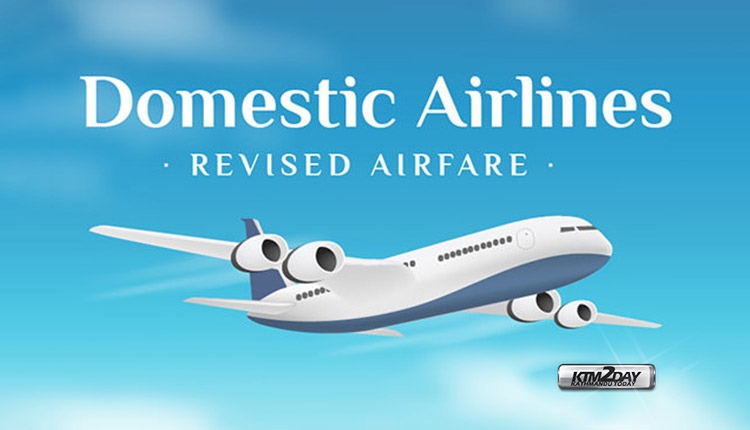 The airline operators' umbrella organization, the Airline Operators Association, has stated that the domestic airfare has been revised. With the Nepal Oil Corporation's (NOC) decision to hike the price of aviation turbine fuel recently, airline companies too have increased the air fare.
The increase in air fares has been approved by the Civil Aviation Authority of Nepal. Along with the continuous increase in fuel prices by the Nepal Oil Corp, the airline association has also been increasing air fares. The air fare has increased three times in the last two weeks.
The NOC had increased the price of aviation fuel by Rs 2 per liter beginning from 12:00 midnight of March 16.
The rise is from five rupees to Rs 90 depending on the duration of the flight. Rs 90 has been increased for the Kathmandu-Dhangadhi destination, Rs 60 for the Kathmandu-Bhadrapur route and Rs 70 has been increased for the mountain flight.
Domestic Airfare Rates March 20, 2021 (Revised)
| Sector | Av. Fuel Rs 72 | Av. Fuel Rs 74 | Increased by |
| --- | --- | --- | --- |
| Kathmandu – Mountain | 2470 | 2540 | 70 |
| Kathmandu – Bhadrapur | 2160 | 2220 | 60 |
| Kathmandu – Biratnagar | 1725 | 1775 | 50 |
| Kathmandu – Janakpur | 925 | 950 | 25 |
| Kathmandu – Bharatpur | 770 | 790 | 20 |
| Kathmandu – Pokhara | 1140 | 1170 | 30 |
| Kathmandu – Bhairahawa | 1480 | 1520 | 40 |
| Kathmandu – Nepalgunj | 2345 | 2410 | 65 |
| Kathmandu – Dhangadi | 3180 | 3270 | 90 |
| Kathmandu – Tumlingtaar | 1325 | 1365 | 40 |
| Kathmandu – Simara | 645 | 665 | 20 |
| Kathmandu – Chaurjhari | 2105 | 2165 | 60 |
| Kathmandu – Phaplu | 875 | 895 | 20 |
| Kathmandu – Baglung | 1500 | 1545 | 45 |
| Kathmandu – Bhojpur | 1065 | 1095 | 30 |
| Kathmandu – Jomsom | 1420 | 1460 | 40 |
| Kathmandu – Jumla | 2460 | 2530 | 70 |
| Kathmandu – Lamidaada | 820 | 840 | 20 |
| Kathmandu – Lukla | 980 | 1010 | 30 |
| Kathmandu – Manang | 1365 | 1405 | 40 |
| Kathmandu – Meghauly | 790 | 815 | 25 |
| Kathmandu – Ramechhapp | 600 | 615 | 15 |
| Kathmandu – Rumjataar | 735 | 755 | 20 |
| Kathmandu – Surkhet | 2295 | 2360 | 65 |
| Kathmandu – Taplejung | 1475 | 1515 | 40 |
| Kathmandu – Rajbiraj | 1255 | 1290 | 35 |
| Kathmandu – Dang | 1965 | 2020 | 55 |
| Kathmandu – Khanidaada | 955 | 980 | 25 |
| Kathmandu – Khangeldaada | 955 | 980 | 25 |
| Kathmandu – Rukum | 2105 | 2165 | 60 |
| Kathmandu – Thamkharka | 1230 | 1265 | 35 |