Esewa adds Link Bank Account feature to load balance more conveniently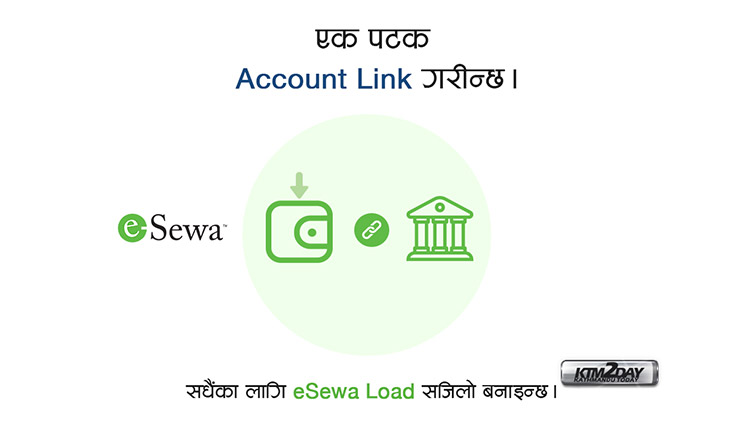 Nepal's first and leading payment service provider 'Esewa' has now added a new convenient feature for it's users. Esewa users will now be able to load balance to their Esewa account just by simply linking their bank account to their esewa account. This is a one time process to be completed by the user.
Now after linking the Esewa account to the bank account, users will be able to load money in Esewa more easily through mobile banking. Chief Executive Officer of Esewa, Subhas Sapkota, said that the account linking feature has been introduced to make it easier for its users to load balance into their account. He said, 'Esewa is always on the lookout to provide the latest services to its users. '
In order to use the Account Link service,  Esewa user firstly must have a certified Esewa account. Then, the mobile number registered in both esewa and their respective bank has to be the same.
In order to link Esewa to a bank account, first of all you have to go to the option called Load Money on the homepage of Esewa.
Click on the Link account button, select the bank where you have your account, enter your bank account details and click on Process.
Then the mobile banking portal will open. Then you have to enter your mobile number and password. After that, if you enter the OTP password received on the mobile and click on 'Pay', the bank account will be linked to the service.
After linking the bank account, in order to load the amount in the service holder account, you have to log in to the service account and go to the 'Load Money' option and click on the bank account you have linked. After that, the amount to be deposited in the service and other details can be easily loaded.
Currently, Esewa accounts can be linked with 20 member banks and financial institutions. In the near future, other banks will also be added.
From Esewa one can pay insurance premiums, share transactions as well as mobile, telephone, internet, electricity and drinking water tariffs, recharges, airplanes, bus tickets, school-college fees.
Esewa currently has 50 banks and financial institutions as members. Users can load balance to their esewa account easily using the Load Wallet feature available in various bank apps.