Mustang now in Nepal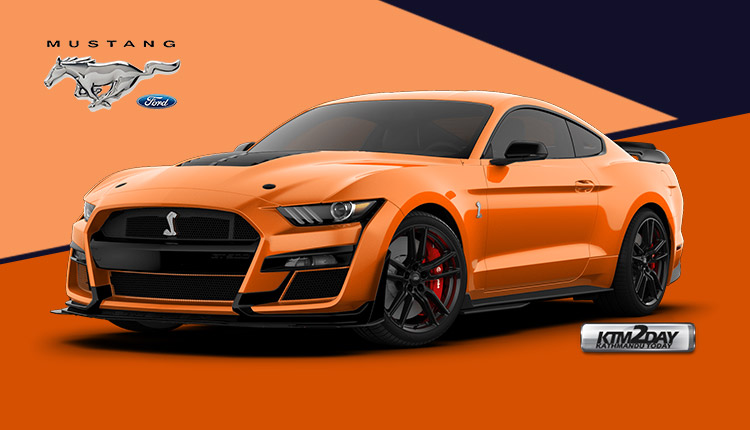 The iconic Ford Mustang has finally made its way to Nepal after being teased at the NADA Autoshow last year. The new Ford Mustang delivers sleeker style, enhanced engines, sharper driving dynamics and advanced driver assistance technologies for passionate fans of the car.
GO Automobiles, the exclusive dealer of Ford automobiles in Nepal has priced the Ford Mustang at Rs16.9 million.(Rs. 1 crore 69 Lakhs)
The Ford Mustang is instantly recognizable across the globe as it has played a starring role in multiple blockbuster Hollywood movies since 1964. To date, the car has appeared in over 500 movies and hundreds more television programmes.

Some of the most memorable films the Ford Mustang appeared in is 'Bullitt', 'Gone in Sixty Seconds', 'War of the Worlds' and 'I Am Legend'.
Powering the new Ford Mustang is an enhanced 5 litre V8 engine that pumps out 416 PS of raw power that promises to make the car one of the fastest accelerating vehicle ever, reads a press release.Customers will be able to control the new Mustang with Ford's new 6-speed manual transmission.
The company claims that the combination of the enhanced V8 engine along with the new 6-speed manual transmission gearbox will make the Mustang faster, more responsive and more fuel efficient compared to its older models.
The styling of the Ford Mustang is athletic, underscored by crisp, clear LED lighting, bold new exterior colours and alloy wheel options.
Step inside the car steeped in history and you will find the latest equipment such as Ford's SYNC 3 communications and entertainment system which allows drivers to control their connected smartphones, audio, navigation and climate functions with voice commands along with a central 8-inch touch screen which supports pinch and swipe gestures. The car also supports Apple CarPlay and Android Auto.
Ford redefined a whole segment of cars with the launch of the Mustang in 1965 and created the "pony class" of American muscle cars, affordable sporty coupes with long hoods and short rear decks and give rise to competitors such as the Chevrolet Camaro, Pontiac Firebird and Dodge Challenger.
The superstar car is finally here in Nepal via GO Automobiles which boasts a 4,600 square foot showroom area at Thapathali, Kathmandu along with a 18,000 square foot workshop area with state of the art service facilities.
Ford customers in Nepal can enjoy low cost of ownership, availability of spare parts and good value for money, states the release. Ford is offering the all-new Figo, Figo Aspire, all new Fiesta, Ranger, Ecosport and Endeavour in Nepal.