Honda Nepal launches New Year 2078 offer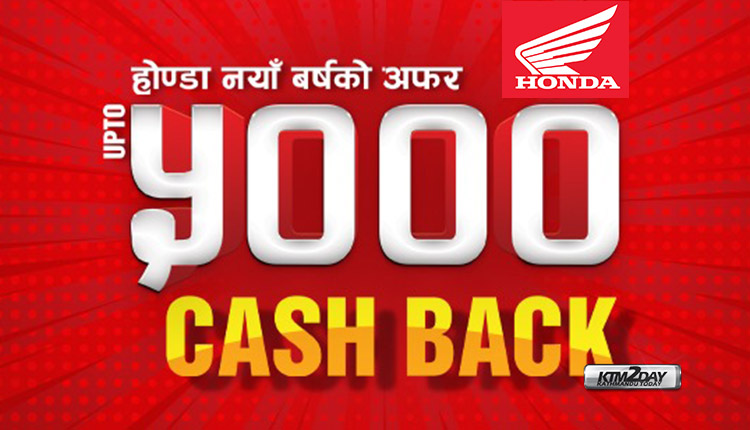 Syakar Trading Company, Honda's official distributor for Nepal on the occasion of New Year 2078 BS has launched a new offer on purchase of Honda two-wheelers.
The company is providing a cashback discount of upto Rs 5000 while buying a new Honda bike or scooter.
Similarly, various offers including down payment of Rs 1 implemented by Honda after the lockdown will be continued further. Under this, when buying Honda bikes and scooters, it is enough to pay a down payment of only Rs.1.
Similarly, the monthly installment of the bike or scooter will be Rs 1 and the interest will be only 1 percent.
Honda has unveiled various plans under this offer. Under the first scheme, customers who want to buy a motorcycle can make a down payment of Rs 1 and pay the remaining amount within a maximum of three years. As per the rules of the company, 13 percent interest rate will be charged on timely payment of installments.
Under the second scheme, Honda motorcycles and scooters can be purchased in monthly installments of Rs.1.  Under this, four types of down payment facility are available.
When making 40 percent down payment in this plan, customers will have to pay Rs.1  as installment charge for the first three months. After that, the remaining amount has to be paid in regular installments. Its interest rate will be 16 percent.
Similarly, 50 percent down payment is made by paying 1 rupee installment fee for the first 6 months. After 6 months period, the remaining amount should be paid in installments.
Similarly, in case of 60 percent down payment, the first 9 months customers only need to pay Rs 1 and then the remaining installments has to cleared at a interest rate of 16%.
Also in case of 70 percent down payment, customers need not pay anything except Rs 1 on the first year. The remaining installments will attract an interest rate of 16%.
Under the third scheme, Honda motorcycles and scooters can be purchased at one percent interest. Under this plan, the customer gets a loan at an interest rate of 1 percent and its term is one year. This means that Honda provides a loan to buy a bike or scooter and the loan can be repaid within a year. Under this plan, customers who want to buy a motorcycle or scooter have to pay 60 percent down payment.
Under the scheme, the customer can choose the option that is convenient for him. Under this, the customer can avail the facility of loan up to 3 years or 20 percent down payment. It attracts an interest rate of 13 percent when paying for regular installments.
In all these plans, the customer has to pay all the expenses incurred for insurance and the amount to be transferred in advance.