Kia launches e-Niro electric vehicle in Nepali market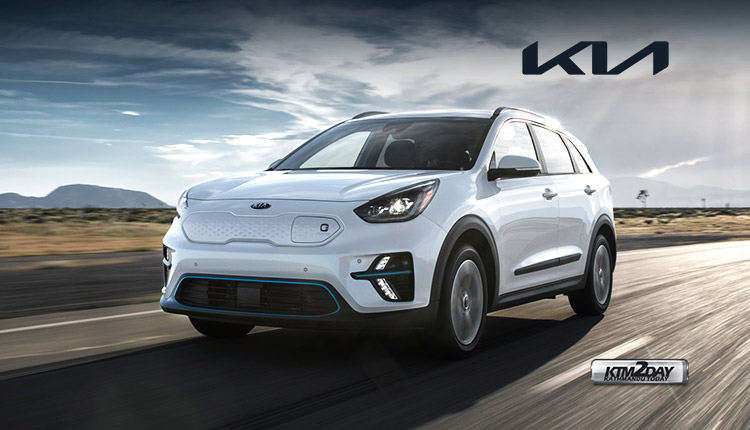 Kia launched the Niro hybrid crossover back in 2016 with stylish and modern design and two years later in 2018 launched a complete electric version in the form of Kia e-Niro.
Unlike the usual Kia Niro (Hybrid), the e-Niro version received a slightly corrected appearance, an extended list of equipment and, of course, a completely electric powerplant. It is also worth noting that Robert De Niro , a two-time Oscar winner, became the face of the advertising campaign of the novelty .
Kia launched the electric version of Niro in the american market as Kia Niro EV and as Kia e-Niro in european markets.
Continental Trading Enterprises, the soul authorized dealer of Kia automobile in Nepali market has launched the Kia e-Niro now in Nepali market.
Continental TE has been selling electric vehicles in Nepali market from last few years , the company has also launched Kia Soul EV in Nepal in the past.
Kia can be considered a pioneer in this business, since at the end of 2014 it began selling electric Soul EV. And now the Koreans have decided to offer another new product – the e-Niro crossover.
In short, the Kia e-Niro on the technical side is the brother of the Hyundai Kona electric crossover . Hyundai Motor Group is also the parent company of Kia Motors which bought 51% of it's stake back in 1999. As the latest offering in the EV market , the Kia Niro EV is a strong competitor to fellow Korean brand Hyundai's Kona Electric, which shares a similar powertrain.
The Niro EV features a futuristic and modern design, which incorporates Kia's trademark 'tiger-nose' grille with a twist – the charging port is integrated to the grille.
The newly launched 100% electric compact SUV Kia e-Niro comes with 64 kilowatts of battery capacity and comes equipped with a 150 KW electric motor.
The latest batch of EVs, including the Niro, are capable of going farther on a full battery than ever before. The main highlight of the KIA e-Niro model is it's mileage that it gives on a single charge. According to KIA, in the version with a 64 kW battery, the car will be able to drive up to 485 kilometers, and in the urban cycle at low speeds even more – up to 615 kilometers.
Meanwhile, redesigned air intakes and new arrowhead-shaped LED daytime running lights combine with light-blue trim highlight to emphasise the car's sleek profile along with its slim character line and tapered rear windows. Stylish five-spoke 17-inch aluminium alloy wheels with diamond-cut two-tone finish complete the exterior of the Niro EV.
Inside, you'll find that the Niro EV offers an unexpectedly spacious cabin, this is due to its 2,700mm wheelbase which provides maximum legroom for the occupants, additionally, the 1,805mm width and 1,560mm height of the Niro EV ensures excellent head room. It also offers increased practicality with a cargo space of 451 litres – more than most other electric vehicles.
The interior of the Niro EV is also differentiated from other Niro models with a range of new features and design, with the most prominent being the 'dial-style' shift knob. Unique to the Niro EV is a 7.0-inch LCD display that takes the place of a conventional cluster, allowing the driver to intuitively check driving and the electric powertrain information while on the move. At the centre of the dashboard is a 7.0-inch touchscreen infotainment system that allows owners to locate nearby charging points as well as monitor the level of charge and remaining range.
According to official information, a version with a 64 kW battery will be able to drive up to 615 kilometers on a single charge, which is even more than most gasoline cars can drive on a full tank. It will be possible to recharge the car up to 80% in 54 minutes.
The 150 kW engine produces 201 horsepower and 395 Nm of torque, accelerating to 100 km / h in 7.8 seconds.
KIA e-Niro is equipped with a number of electronic systems for saving and energy recovery, is front-wired and is offered with an official guarantee for a battery and an electric motor for a period of 7 years or 160 thousand kilometers.
Using only electric energy, the compact KIA e-Niro crossover offers a combination of real driving pleasure, attractive design, practicality of the crossover and power-train with zero emissions. This combination makes the new model one of the most interesting offers in the world among electric vehicles.
The Niro EV is also equipped with a range of Kia's Advanced Driver Assistance Systems to provide unparalleled safety for its occupants. These include the Blindspot Collision Warning which uses sensors to warn the driver of approaching vehicle in the blind spots, a 7-airbag system, Electronic Stability Control and Hill-Start Assist Control.
Kia Niro EV (e-Niro) Specs
Long-range version:
64 kWh lithium-ion polymer battery pack
Energy density (cell) 250 Wh/kg
Nominal voltage of 356 V
range of 385 km EPA or 455 km on the WLTP (combined cycle)
150 kW and 395 Nm electric motor (front-wheel drive)
top speed of 167 km/h
0-100 km/h in 7.8 seconds
30-70 km/h in 2.8 seconds
60-100 km/h in 3.8 seconds
80-120 km/h in 5.0 seconds
DC fast charging at up to around 100 kW from 20% to 80% in 42 minutes
7.2 kW on-board charger
Kerb weight – 1,737 kg (min) – 1,791 kg (max)
Gross weight – 2,230 kg
Kia Niro EV (e-Niro) Price in Nepal
Continental Trading Enterprises , the authorized dealer of Kia automobiles has launched Kia e-Niro in Nepali market.The company has opened booking for its electric vehicle with prices set at Rs. 69.90 Lakhs.