LG launches DualUp Monitor with 16:18 aspect ratio for content creators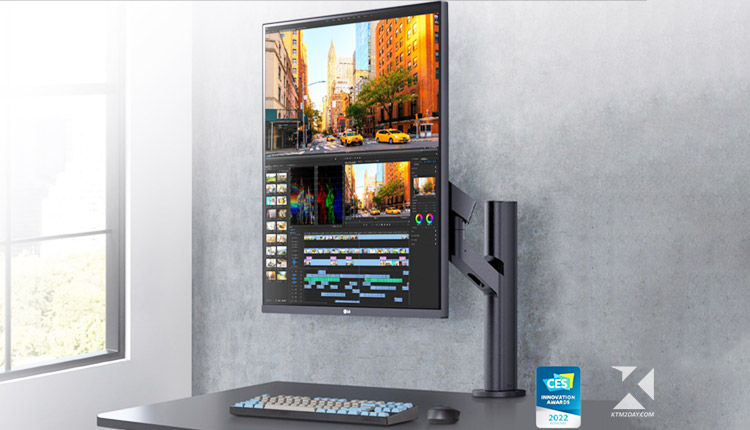 DualUp Monitor from LG is currently available for purchase in the United States. For $699.99, you get a 28-inch monitor with 16:18 aspect ratio and the ability to display two monitors on top of each other. Originally unveiled at CES 2022.
Its complete model number is 28MQ780-B, which is the equivalent of two 21-inch monitors with a 16:9 aspect ratio that are placed on top of one another. Because there's no bezel between the two parts, the experience is cleaner and less cluttered, of course. When it comes to setting up, you won't need as many separate stands or VESA mounting arms because the two panels are stacked on top of each other.
The monitor's primary purpose is to increase efficiency and creativity by allowing users to examine more information on a single page. You can read longer papers with less scrolling when using content creation apps since the tools have more breathing room. As LG refers to it, the display features a 2560 × 2880 resolution, or Square Double QHD. As a result, it covers 98 percent of DCI-P3 and supports HDR10, which enables HDR metadata to be interpreted.
Aside from that, it's not just one big panel. It's possible to tell that the monitor has two screens because of this. Picture-by-picture mode allows you to simultaneously display content from two different sources on the same screen. Aside from the obvious advantages of having two separate monitors, you can even use the same PC with two separate HDMI or USB-C outputs, allowing you to divide apps between the two monitors more easily.
Two HDMI connections, one DisplayPort, and a USB-C input with data and power transmission of up to 90W are available on the display. Those extra two Type-A ports can be used as a USB hub for your peripherals. The stand, on the other hand, can be used in a variety of ways. The monitor is secured to your desk by a C-Clamp arm, but it can be tilted, swivelled, pivoted, and adjusted in height, as well as moved closer or further away from you, or to the left or right side of the stand, for maximum flexibility.
If you're looking for a way to boost your output, the LG DualUp Monitor is what you need.