LG Fridge Price in Nepal 2023 – Refrigerator Prices in Nepal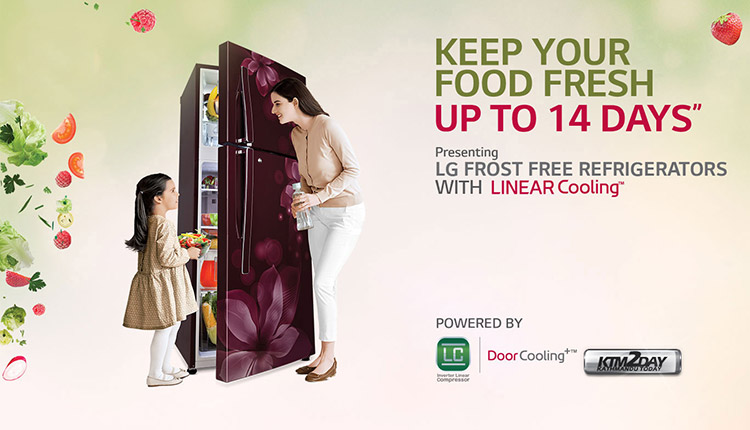 LG Refrigerator Price in Nepal 2023
When it comes to refrigerators, LG is a top contender. In addition to having sleek and stylish designs, LG refrigerators come with the latest features and an impressive amount of storage space. The interior lighting offers clear visibility of the items stored so that nothing is ever forgotten or left behind, while modern door styles and handles allow for an effortless and stylish look for the kitchen. The innovative cooling technologies of LG refrigerators help keep food fresher for longer and help to eliminate food waste.
LG is at the forefront of technological advances and has revolutionized the refrigerator industry with its selection of inverter linear compressors. These compressors are incredibly efficient and last much longer than traditional compressors. They reduce noise and vibration levels, so operation is incredibly quiet and efficient. With the higher energy savings, having an LG refrigerator reaps significant economic benefits over the years.
LG refrigerators also come with a myriad of space-saving solutions. From spill-proof glass shelves to slimmer door baskets, LG has thought of everything. Moisture balances in crispers and DuraBase boost to add extra shelf space, plus many other features for optimal use of every inch of interior space.
To top it off, LG refrigerators also come with a host of extra features to make life easier. The Slim SpacePlus ice system, convertible freezer drawers and Smart Cooling System are all great solutions for modern living. Door-in-Door technology allows for fast, easy access to stored items without losing cold air, offering the ultimate in convenience.
In conclusion, LG refrigerators are both stylish and efficient. With advanced features, economical benefits and plenty of storage solutions, all needs and wants are taken care of. Never worry about food waste, lack of space or outdated designs with LG's impressive selection of refrigerators; they offer the perfect balance of modernity, convenience and cutting-edge technologies.
There are a variety of LG Refrigerators available in Nepali market. You can find fridges in a wide variety of sizes, designs, and features. You can find LG refrigerators at authorized dealers and LG Showrooms in your area.
Below you'll find a list of LG Refrigerators currently available in the domestic market with their respective features and prices.
LG Refrigerator Price in Nepal 2023
Image
Model Specifications
Price NRs.
LG Refrigerator 471 Ltr GLB503PZI
1,04,890
LG Refrigerator 310 Ltrs.
GLB322RVBN
68,490
LG Refrigerator 260 Ltr
GLB292RVBN.ABCQ
66,590
LG Refrigerator 668 Ltr GS-X6010MC
4,19,790
LG LG 668 Ltr. Noble Steel Side-by-Side Refrigerator GSX6011NS
4,19,790
LG Refrigerator 594 Ltr GFQ4919MT
3,41,190
LG Refrigerator 308 Ltr GLM332RPZI
69,190
LG Refrigerator 360 Ltr. GLM413RLCI
82,390
LG Refrigerator 190 Ltr GLD205ABCB
37,490
LG Refrigerator 190 Ltr GLD205ASCB
37,490
LG Refrigerator 285 Ltrs GL-M312RLML.APZQ
60,290
LG Refrigerator 215 Ltr GLB231ALLB.DPZQ
36,990
LG Refrigerator 185 Ltr GLB200HRLN.ARLQ
29,490
LG Refrigerator 668 Ltr GSL6012PZ
2,35,490
LG Refrigerator 190 Ltr. GLB205ARGB.ARGQ
34,390
LG Refrigerator 190 Ltr. GLB205APGB.APGQ
34,390
LG Refrigerator 258 Ltrs GLK292SLTL.APZQ
47,590
LG Refrigerator 190 Ltr GLB201ALLB.APZQ
30,790
LG Refrigerator 471 Ltr
GLM503PZI
98,190
LG Refrigerator 437 Ltr
GLM433PZI
94,490
LG Refrigerator Price in Nepal - Updated on January 2023
LG Refrigerator Price in Nepal 2023
Image
Capacity/Model
Price Rs.
130 Ltr
GC131S
20,100
185 Ltr
GLB195OGSQ.AGSQ
21,800
185 Ltr
GLB195ODGQ.ADGQ
23,290
185 Ltr
GLB195OWCQ.AWCQ
23,600
190 Ltr
GLB205KGSQ.AGSQ
24,600
185 Ltr
GL195OMGE4.AINQ
25,200
190 Ltr
GLB201ATNL.ATNQ
25,290
190 Ltr
GLB205KVHQ.AVHQ
26,800
190 Ltr
GLB201AMLL.AMLQ
27,400
190 Ltr
GLB201ASHL.ASHQ
27,490
190 Ltr
GLB205KGLR.AGLQ
27,800
190 Ltr
GLB201APAB.APAQ
28,290
190 Ltr
GLB201AHDB.AHDQ
28,290

190 Ltr
GLB201ASAB.ASAQ
28,290
190 Ltr
GLD205KGHQ.AGHQ
28,500
190 Ltr
GLB201AHAP.AHAQ
28,590
190 Ltr
GLB201ASAP.ASAQ
28,590
190 Ltr
GLD201AMHL.AMHQ
29,390
190 Ltr
GLD201AGLL
29,390
190 Ltr
GLD201APAP.APAQ
30,090
240 Ltr
GLM252VML
36,800
240 Ltr
GLB252VLGY.ANIQ
39,090
240 Ltr
GLB252VPGY.ASPQ
40,690
258 Ltr
GLB292SMTL.ATNQ
41,890
258 Ltr
GLB292RMTL.ANIQ
43,700
258 Ltr
GLB292RPCL.APOQ
48,290
258 Ltr
GLB292RPTL.ASOQ
48,290
258 Ltr
GLS292RPCL.ASFQ
50,390
258 Ltr
GLC292RVBN.ASOQ
50,790
285 Ltr
GLB302RPCL.ASOQ
51,390
285 Ltr
GLV292RVBN.AHDQ
52,990
285 Ltr
GLS302RPCL.AMFQ
53,990
310 Ltr
GLS322RPCL.ASDQ
53,990
285 Ltr
GLE302RLVC.APZQ
54,400
310 Ltr
GLB322RPCL.ASFQ
54,590
310 Ltr
GLB322RPCL.AGOQ
54,590
310 Ltr
GLB322RPTL.ASPQ
54,790
285 Ltr
GLE302RPVC.AVGQ
56,000
310 Ltr
GLE322RPVL.AMPQ
62,990
360 Ltr
GLB402RPHR.DHSQ
65,190
422 Ltr
GLM492GLD
68,500
422 Ltr
GLB492GLPL.DPZQ
76,390
491 Ltr
GLB612GLP
77,900
491 Ltr
GLB612GLPL.DPZQ
83,990
507 Ltr
GTD5101NS
1,18,400
411 Ltr
GTD4111PZ
124,400
506 Ltr
GSL5062PZ
2,14,200
687 Ltr
GSB6263PZ
2,08,600
506 Ltr
GRL209GSYV
1,93,300
528 Ltr
GSB5282PZ
1,44,990
LG Refrigerator Price in Nepal - Updated on January 2023