LG Wing with dual display set to revolutionize mobile gaming market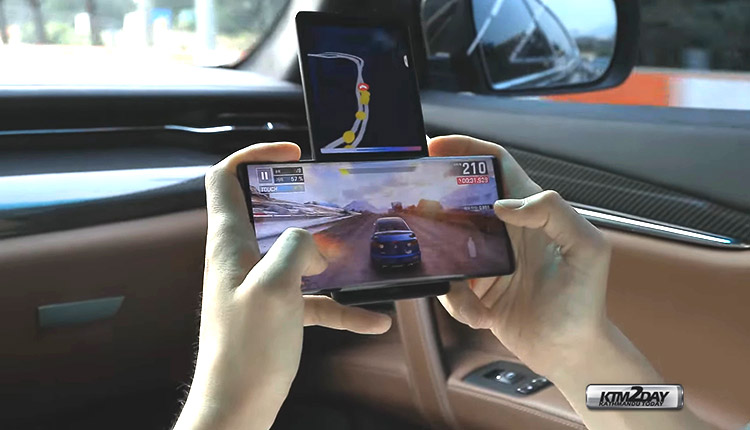 LG 's upcoming dual-screen phone is set to revolutionize the gaming smartphone segment . The LG Wing recent teaser video demonstrates how the screen can be useful while driving a car, but today we are seeing another video of it working only for a much more fun purpose: in games.
The new device, which LG codenamed "Wing," changes its shape by rotating to form a "T." The new handset features two unequally-sized displays, one of which can only be accessed by twisting the main display to its side.
The report by Android Authority states that the second display is smaller and flips out from the bottom of the main display.

For some time now we have seen very little innovation in smartphone design (let's forget foldable smartphones for now), with the vast majority coming to the market with a very similar design. The design of the LG Wing with dual display could start a much desired revolution in the smartphone market.
As we can see in the video, the secondary screen basically serves to improve productivity in different situations. In this specific case, while the user is driving, the main screen displays the navigation application while the secondary serves to display the music controls.
When receiving a call, the entire notification and answering process is also done on the secondary display, without having to interrupt the presentation of the main navigation application in the primary display.

In the video, we see the user playing a racing game that, thanks to its secondary screen, has the race map displayed outside the main screen, leaving much more free space. Usually, games for smartphones end up having a very obstructed field of view, either by their controls or by supporting visual elements.
The rumoured LG Wing is expected to have a 6.8-inch main screen and 4-inch second screen, and either the Snapdragon 765 or 765G processor.
As information about this device is limited, many questions remain about exactly how the second display functions: is the second screen limited to only LG's suite of apps, or can third-party applications also be loaded onto it?
We assume that the LG Wing will be launched on the market before the end of the year, possibly as early as October. The dual display device is expected to be expensive and could retail around $1000.