Melamchi Water distribution to halt during rainy season, alternative in plan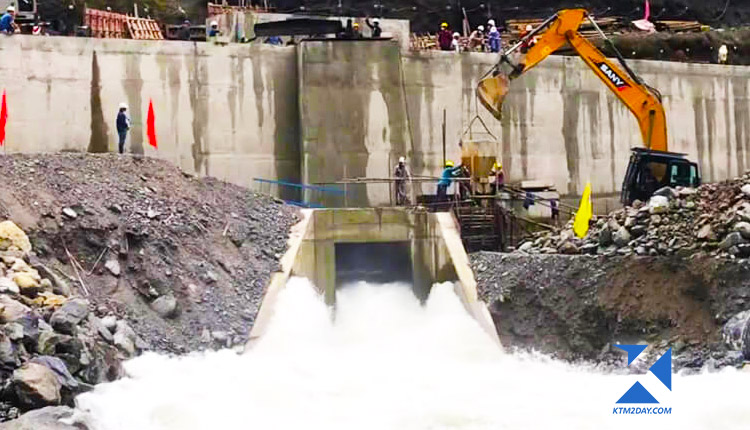 Because of the imminent rainy season, the Melamchi Drinking Water Project Development Committee has decided to halt the supply of water from Melamchi to the capital.
Even though water from the temporary structure was dispatched back to Kathmandu two weeks ago, the committee said it is not possible to bring water regularly to prevent further damage to the project site due to rains.
Currently, 170 million liters of water is being distributed daily in Kathmandu Valley. 
Project Information Officer Rajendra Prasad Pant said that the project should be vigilant this year as floods and landslides damaged the project on the first day of July last year. 
"The tunnel should be closed before the onset of rains to prevent flooding," he said. Kathmandu Valley residents are happy after the water started flowing again.
In some places, people have complained about the lack of water, but the number of complaints related to distribution has decreased compared to last year.
The committee has stated that discussions are underway to bring Bagmati water to Sundarijal for treatment as Melamchi water could not be brought during the rainy season.
Minister for Water Supply Umakanta Chaudhary had started redistribution by opening the key (valve) in the office of Kathmandu Upatyaka Khanepani Limited, Baneshwor branch on Baisakh 11. 
The distribution of 50 million liters of water was started on the first day and soon after 80 million followed by 170 million liters of water distribution has gradually started.
Water transition was started for the first time in Falgun of last year. The tunnel was closed on Ashar 1 for testing after distributing water in the valley for three months.
The floods on the same day damaged various structures including the headworks but did not cause much damage to the main tunnel.
The structure of the construction company was also damaged due to repeated floods in Ashar. Even after the rains, the access road to the project site was flooded and could not be repaired for a long time.
After the temporary maintenance of the road, the obstructions were removed leading to the project site.
The project has not been completed yet even though preparations have been made for temporary distribution of water. 
The flood damage in the upper part of the project site has not been repaired. The donor body, the Asian Development Bank (ADB), is studying the damage. The committee has stated that the bank will submit its report soon.