NEA inaugurates EV charging station in Ratnapark office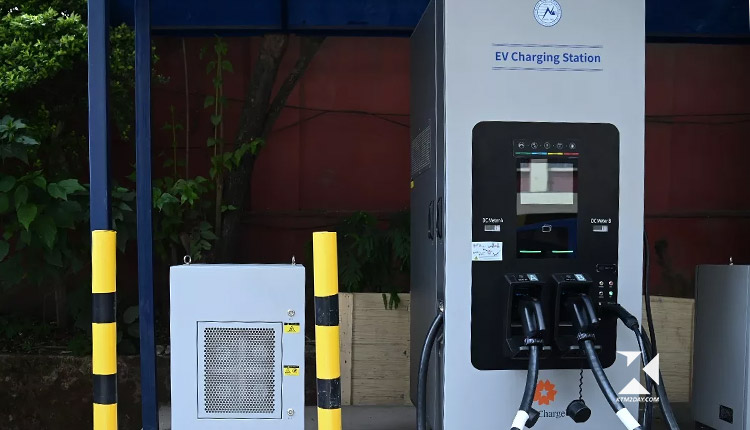 Nepal Electricity Authority has launched a fast charging station for electric vehicles. On Tuesday, Power, Water Resources and Irrigation Minister Pampha Bhusal inaugurated the charging station at Ratnapark, the central office of the authority.
Minister Bhusal inaugurated the station by attaching the gun of the charging station to the vehicle. The capacity of this charging station is two DC guns of 60 KW and AC guns of 22 KW. A single DC gun can charge vehicles up to 120 kW DC.
There are 26 chargers for big buses, micros, trucks, pickups and cars and 25 chargers for small and big cars. It is said that according to the capacity of the battery in the vehicles available in Nepal, it will be fully charged in at least half an hour to an hour.
Charging will cost an average of 70 paisa for cars, 80 paisa for SUVs, 90 paisa for microbuses and one rupee 20 paisa per kilometer for buses. Energy charges vary according to time. Medium voltage (33 kV) peak (5pm to 11pm) Rs 8.40, off peak 11pm to 5am next day Rs 4.45, others (5am to 5pm) Rs 6.60 per kilowatt hour (Unit) is required.
Medium voltage (11 KV) at peak (5 pm to 11 pm) Rs 8.60, off peak from 11 pm to 5 am next day Rs 5.05, other (5 am to 5 pm) Rs 6.70 per unit .
Low voltage (230/400 volt) peak (5pm to 11pm) Rs 8.70, off peak 11pm to 5am next day Rs 5.05, other (5am to 5pm) Rs 6.90 Unit is required.
There is a provision that charging station operators can charge an additional 20 percent kilowatt hours for providing charging services to electric vehicles.
The charging station can also be used by the general public. National Service Provider System has been developed for that. In which the consumer can book online. Authority's mobile app can be used for payment.
Energy Minister Bhusal said that it is important to be able to charge vehicles using hydropower in the country. 'Petroleum products are imported worth three trillion. "Many countries in the world have no choice but we have," she said. "The role of energy will be important to reduce the trade deficit."
She said that going from Kathmandu to Sindhuli in an electric vehicle will consume 300 rupees of electricity, but going in a diesel vehicle will cost 4000 rupees. Kulman Ghisingh, the executive director of the authority, said that during the time of load-shedding, such charging stations and other things could not be thought of and it was a revolution after the removal of load-shedding. He informed that the authority is building another 50 stations and promised to facilitate the private sector if they want to build them.
The authority is busy building 50 electric vehicle charging stations at 32 different locations in the country. Five locations have been prepared. It has been prepared in places like Balkhu, Sazh, Khurkot.
According to him, the goal is to prepare all the charging stations in two months. The Chinese company Wanbang Digital Energy is working on the contract. Asian Development Bank (ADB) is going to build a charging station with an investment of Rs 370.79 million.